Why the Bruins should rest Linus Ullmark amid a stellar season
Bruins

"Every single day, he comes to work."
COMMENTARY
Linus Ullmark is having a season for the ages.
It's only taken the Bruins netminder 28 decisions to reach 25 wins this season, shattering a 93-year-old NHL record for the fewest results needed to hit that benchmark.
The anchor of a stout B's defense, Ullmark leads the league in wins, goals against average (1.82), and save percentage (.938).
Former Capitals goalie Braden Holtby holds the single-season NHL record for wins (48). Ullmark (25-1-2) is right on his heels.
It'd be a fitting accolade for Ullmark to achieve in a year where the Vezina Trophy is his to lose.
But it's far from a pragmatic goal for a Bruins team fixated on far more than just individual achievements.
The 29-year-old Swede is one of the primary architects of Boston's 38-5-4 start to the 2022-23 season. The best way for Boston to reward his efforts?
Far fewer starts down the stretch.
Boston's record-setting warpath across the rest of the NHL opens the door for some much-needed rest. Even if the Bruins won just 21 of their final 35 games, they'd break the team record for single-season points (121 in 1970-71). They could go 10-25 and still reach triple digits in the standings.
Even Patrice Bergeron — a player who has trudged through broken ribs, fractured noses, and even a collapsed lung — might be in line for some "load management" off days moving forward.
Ullmark's ascension into the top tier of NHL netminders this season has elevated Boston from a potential Cup contender into an imposing juggernaut. But for Boston to see this dominant season through, it's going to need a rested Ullmark primed for the gauntlet that awaits in the postseason.
Little has slowed down Ullmark this season.
In his 30 games, Ullmark has saved 26.5 goals above expected, a testament to his knack for stimming Grade-A chances and momentum-shifting tallies.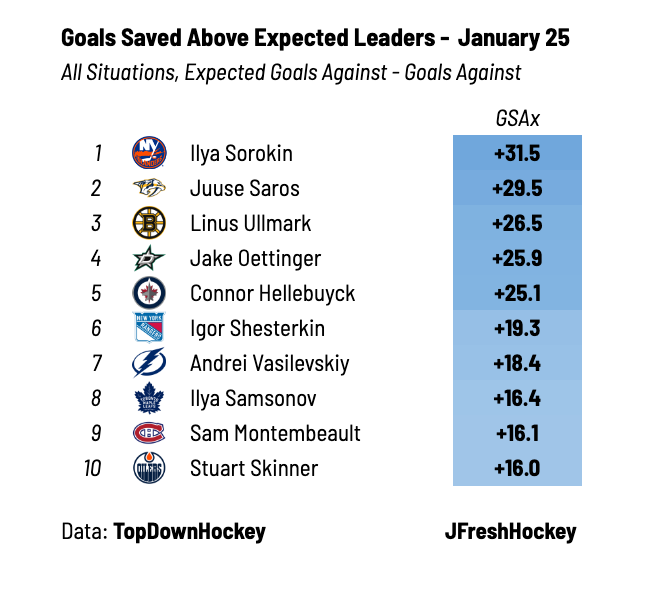 But the Bruins are wading into uncharted waters with Ullmark's workload.
Ullmark's previous career-high for games played in a season is just 41, achieved last season. That previous threshold could be shattered by March.
Ullmark hasn't wavered all season between the pipes, but managing goalie workloads has become a top priority for many Cup-contending clubs over the last decade.
The days of a No. 1 netminder logging 60-plus starts in a season is an antiquated measure in today's game.
No goalie has won the Stanley Cup after playing more than 60 games in the regular season since Marc-Andre Fleury played 62 with the Pittsburgh Penguins in 2009.
The Bruins got the memo during Tuukka Rask's final seasons. After averaging 63 games from 2014-18, Rask played only 46 games in 2018-19 after Boston added an established backup in Jaroslav Halak.
Rask rewarded Boston's efforts with a .934 save percentage over 24 games during Boston's run to the 2019 Stanley Cup Final.
Goaltending might be a highly variable segment of a roster, but curtailing regular-season starts stands as a best practice for most teams bracing for an extended playoff push.
Easing up Ullmark's reps during the dog days of winter is a proactive measure for Boston. But it's an objective that only becomes feasible if the team has a solid backup option in place.
Luckily for Boston, Jeremy Swayman has been as good, if not slightly better, than his partner in net over the last few weeks.
After a slow start marred by injury, Swayman has settled into a groove in Boston's goalie corps.
Over his last 10 appearances, Swayman is 7-0-1 with a .938 save percentage and a shutout.
Ullmark's last 10 outings? 8-1-1 with a .938 save percentage.
Among the 66 goalies who have logged 500 minutes of even-strength ice time this season, Ullmark ranks fourth in save percentage on high-danger shots at .833. Swayman? Third overall at .887.
It's been an embarrassment of riches for Jim Montgomery and the Bruins, with both goalies capable of turning aside volley after volley of vulcanized rubber.
"He's been poised, and he's always in position," Patrice Bergeron said of Swayman last week. "I can't say enough about him and his demeanor. He's ready every time he's asked upon and gives us a chance to win every time. It's great to see. When he's having a game like the game he had tonight, it gives you confidence, and you want to pull it all for him."
For now, Montgomery plans to keep a true rotation in place between Ullmark and Swayman, at least through the All-Star Break.
Beyond that respite in the schedule, Boston needs to allocate more minutes to its 1B option in net.
Such a tweak will further build Swayman's confidence amid the strongest stretch of his career.
And in the greater scheme of things, benefit a top-flight goalie in Ullmark ahead of more daunting days.
"I'm happy that Sway is putting up the numbers that we all know that he can do and I'm very excited for him," Ullmark said. "It's been very fun to see him battling back from the start… And he's putting down the work. Every single day, he comes to work and he does it with a smile on his face. So I couldn't be more happy to share duties with him."
Get the latest Boston sports news
Receive updates on your favorite Boston teams, straight from our newsroom to your inbox.