VIDEO: Jimmie Johnson Was Once Embarrassingly Wrecked Out By NASCAR Driver Even Before The Race Began
Back in the 2002 NASCAR Cup season, there was a rather humiliating moment for Mark Martin. During the formation lap for the race at the Talladega Superspeedway, he somehow crashed into Jimmie Johnson. As is the norm, Martin was weaving left and right in order to heat up his tires and get a better grip.
Both drivers were at the front of the grid, and Johnson was just a rookie at the time.
ADVERTISEMENT
Article continues below this ad
For some inexplicable reason, Martin's steering box locked. As a result, he careened down the track and plowed into the side of the Hendrick Motorsports car.
Naturally, both cars were damaged in the bizarre incident because crashing before the race begins is quite rare. Later on, Mark Martin copped a penalty when he was forced to go down pit road.
DIVE DEEPER
What happened to Mark Martin and Jimmie Johnson in the aftermath?
In light of the incident, crew chief Chad Knaus hoped to get permission to make repairs on the #48 car. In the end, it was granted, but it cost Jimmie Johnson the points lead.
ADVERTISEMENT
Article continues below this ad
Additionally, he lost two laps and struggled to make his way back up the pack. To make matters even worse, his #48 Hendrick Motorsports car developed engine trouble on lap 125 of the 188-lap race. As a result, he tumbled all the way down to finish in 37th place.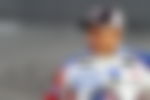 Meanwhile, Martin himself fared slightly better, but it was not by much. In the buildup to the race, he trailed Johnson by 11 points in the championship but was able to salvage 30th place. With regard to how the entire season panned out, it was a relatively great campaign.
ADVERTISEMENT
Article continues below this ad
Unfortunately, he just barely missed out on the Cup Series title to Tony Stewart. Stewart himself would pick up his first of three Cup Series titles in his career.
WATCH THIS STORY: Vettel & Mick's team got knocked out by Jimmie Johnson & Colton Herta