Several Stratford Volleyball Club alumni are wrapping up outstanding seasons, with multiple all-star nods and other accolades across the sport, both locally and abroad.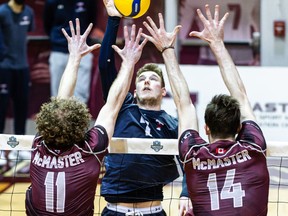 Article content
Several Stratford Volleyball Club alumni are wrapping up outstanding seasons, with multiple all-star nods and other accolades across the sport, both locally and abroad.
Article content
After a dominant season in which he led the Atlantic Collegiate Athletic Association with 165 kills, Holland College's Luke Hyde earned ACAA men's volleyball Rookie of the Year honors and was named to the men's All-Conference team.
The Northwestern grad from Stratford added 89 digs and 21 service aces with the Prince Edward Island school. Holland went 2-8 in the regular season and advanced to the ACAA semifinal, where it lost to St. Thomas University in three sets. Hyde, a kinesiology major, led his team with nine kills from the left side against St. Thomas.
Closer to home, Stratford's Evan Falardeau was one of seven players named to the Ontario University Athletics men's volleyball East Division First All-Star Team.
Falardeau, a six-foot-five left side in his junior season at the University of Toronto, was among the conference leaders in many statistical categories. The former Stratford Central star finished second in kills (161) and total attacks (376), third in points (184.5), fifth in service aces (16) and kills per set (3.74), seventh in points per set (4.3) and 17th in only blocks.
Falardeau had a team-high 15 kills in the Varsity Blues' four-set loss to McMaster in the OUA final. Toronto, which defeated Queen's in the semis, had already punched its ticket to the U Sports championships in Winnipeg from March 25-27.
Varsity Blues' teammate Hayden Cavender, who played with Falardeau at Central, finished his sophomore season in the middle with six solo blocks, which placed him 23rd in the conference. He was 22nd in service aces per set with 0.27, 30th in aces (seven) and 38th in points per set (2.1).
Article content
Another former Ram made was named an OUA Second-Team All-Star.
Queen's libero Lukas Kaufman led the conference with 2.62 digs per set and ranked second in digs with 89. He was 28th in assists per set (0.38) and 29th in assists (13).
The Gaels swept Brock in the OUA bronze-medal match, in which Kaufman registered six digs, and will also head to nationals.
Thomas Wrigley made the OUA's All-Rookie Team in his freshman season at Nipissing. The St. Marys DCVI alum picked up at least two kills in all five of his matches, with a season high coming in a win against Ryerson. He also registered 7.5 points in that match, finishing the year with 14 kills and 22.5 points. His .355 hitting percentage of him ranked third among Lakers.
Wrigley, a middle, was also strong on the defensive side and finished 2021-22 with 11 blocks, leading the team with 0.92 blocks per set.
Bennett Newell had a strong freshman season at the University of Waterloo. Among players in the West Conference, the third-year outside hitter from Brussels was 20th in total attacks (190), 22nd in points (84.0) and digs (45), 24th in hitting percentage (.147), 25th in block assists ( 14) and 27th in assists (14).
Waterloo went 3-9 and placed fifth in the conference.
Jason Guy, a freshman left side with Western, was 21st in the West with 0.28 service aces per set. The Northwestern alum also ranked 28th in points per set (2.5) and kills per set (1.84), 30th in aces (seven) and hitting percentage (.130) and 31st in solo blocks (five).
Article content
Western was 4-5 in the regular season.
In the Ontario Colleges Athletic Association, Georgian College free Sam Thorup, from St. Marys, was named a Second-Team East Division All-Star for after finishing fourth in the province with 2.63 digs per set.
Georgian went 7-1 and placed second in the division in the regular season but lost to Sheridan in the quarter-finals.
Duncan Massie got a taste of post-secondary volleyball after playing seven sets with Conestoga this season. The outside / libero registered an attack against Sheridan in a campaign where Conestoga went 2-7.
On the sand, Abbey Thorup, a former SVC Stinger from St. Marys, is playing with Loyola Marymount University's beach volleyball team.
LMU, currently ranked fifth in NCAA beach volleyball, finished the 2021 season third behind USC and UCLA.
Thorup attended the University of Alabama at Birmingham in 2019-20, and she had a team-best record of 7-2 before the pandemic canceled the remainder of the 2020 season. As a freshman at UAB, Thorup started in the top pair.
After sitting out 2020-21, Thorup was recruited by coach John Mayer and transferred to Loyola Marymount, where she currently has a record of 10-2 with Swiss partner, Selina Marolf.
Stratford's Anna Feore is a member of Team Canada's beach volleyball Next Generation program. The Central alumna won three provincial titles and a national championship at the University of Toronto, where she is now a volunteer coach.
Article content
Overseas, Team Canada middle blocker Marc Wilson played with VK AEZ Karlovarsko in the Czech Republic professional league.
"(The Stratford Volleyball Club) is very proud to see so many of our former athletes thriving at highly competitive levels across the province, country and globe," president Lori McCabe said. "We are a small club that has helped to produce some exceptional volleyball players. A lot of these athletes will give us a shout out in their social media, and that always makes us feel good and reminds us how important early athlete development is, because from humble beginnings they can go on to do great things. "
cosmith@postmedia.com