Sky Germany delivers real-time 5G Bundesliga handball final | News
Sky Germany delivered the Bundesliga handball final using O2's 5G network and fully-cloud based production.
Vizrt's Live Production Solution featuring Viz Vectar Plus for switching, Viz Libero for sports analysis, and Viz Engine and Viz Arc for graphics, all deployed in AWS, were used for the production. These solutions were facilitated by the recently released NDI Bridge feature that brought the program feed from the cloud back to Sky HQ in Munich.
On the ground, Sky used a mixture of broadcast and mobile phone cameras that used an uncomplicated and simple 5G transmission powered by LiveU. Once in the cloud, Vizrt worked with LiveU to ensure that the production was near zero latency, scalable, and at an enhanced quality.
In addition to the TV broadcast, the game was streamed free for fans on skysport.de, and Sky Sport Germany's YouTube Channel.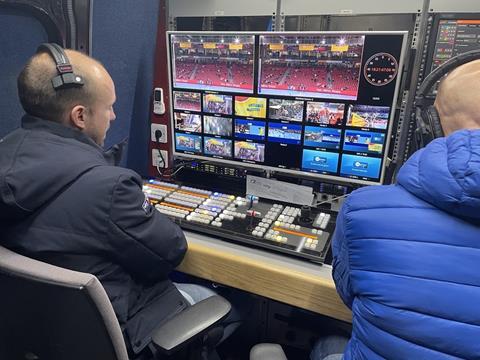 Alessandro Reitano, senior vice president sport production at Sky Germany, said: "After the successful first live broadcast last year, we were once again demonstrating the potential of using 5G in live sports with another end-to-end production. Together with our partner O2 and with the support of Vizrt, we were bringing the handball action very close to the TV viewer in unprecedented 5G transmission quality, allowing fans to immerse themselves particularly deeply in the live action in the arena."
Daniel Url, global head of product management at Vizrt, added: "For the first time ever, someone is doing an end-to-end 5G live production leveraging the brand new NDI® Bridge and our cutting edge graphics, analysis and production tools – all in the cloud. We are extremely proud to work with Sky on this boundary-pushing production."