Preston enters Hall of Fame after building volleyball dynasty
Being voted into the Chatham Sports Hall of Fame gave Dave Preston a chance to reconnect with the people who helped him get there.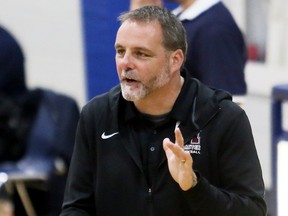 Article content
Being voted into the Chatham Sports Hall of Fame gave Dave Preston a chance to reconnect with the people who helped him get there.
Article content
Many of those relatives, friends and former coaches will be at the Bradley Center on Thursday when the longtime university volleyball coach is enshrined in the builder category.
"This isn't something that you dream about, at least not me," he said. "When I started coaching or even playing volleyball, going into a Hall of Fame wasn't even a thought."
Preston has looked back on his career since getting the good news about his induction.
"A lot of reflection about the people that helped me get along this path," he said. "I clearly never envisioned this as an option. Really, really fortunate and grateful that it is, but it's just a little surreal for a young boy from Chatham playing volleyball."
Preston has built a dynasty at McMaster University. His men's teams have won 10 Ontario University Athletics titles and six medals (two silver and four bronze) at the Canadian championships.
Article content
He's also won seven OUA and three national coach of the year awards.
Preston has been pulling double duty since being hired in April as head coach of the Australian men's national team, known as the Volleyroos.
Australia will host the 2032 Summer Olympics in Brisbane and wants Preston to get the Volleyroos on the podium.
He spent the summer training and traveling the world with the national team.
"It was good," he said. "The organization is great. Volleyball Australia, it's full of great people. Very, very well-intentioned. They want the best for the sport. It's a sports nation.
"It's incredible how tightly woven sport is into the fabric of their culture. Just with their footy (Australian rules football) games, their rugby, golf, tennis – anyone who is in Oz and involved in sport, the country just rallies behind. That culture is really cool to be a part of."
Article content
Preston's coaching career began when he was still a Ursuline College Chatham student. He was an assistant on the UCC senior girls' team.
He went on to play at Western University and then coached the Mustangs from 1993 to 2002, winning six OUA West Division titles. He has been at McMaster since 2002.
He's also coached Canada's national men's teams, winning bronze as an assistant coach with the senior team at the 1999 Pan Am Games and silver with the junior team at the 2012 NORCECA (North, Central America and Caribbean) championships.
Coaching began as a way to give back but to also satisfy his competitive drive, Preston said.
"Then the longer you go as a coach, you start to realize it's not about the coach, it's about what you can do to help the players get better and live their dream," he said.
Article content
"For me, I don't know when that transition happened, but I know that there was a transition where it became, 'OK, what does this player need and what do I have that can help him? How can I help them achieve something?'
"Really, that's what it's been for me. How can I help other people do what they dream of?"
He's still motivated to win championships, but the focus is on the players' goals.
"I got way more satisfaction out of watching other people succeed than I did trying to compete as a coach," he said. "I found that intrinsic value way more satisfying than the wins and the losses. For sure, it changed things. It changes the way you interact with people. You've got to get to know them a lot more."
It's the same in Australia but on a bigger scale. He has a chance to impact more than just his own athletes.
Article content
"You're trying to influence the volleyball community there, too," he said. "As a national team coach, there's a lot more reach than just your team. When you talk about your sphere of control and your sphere of influence as a national team coach, you've got a lot more influence, which comes with a lot more responsibility.
"You have to be careful with that and you have to make sure that you are making good decisions. I don't think it changes my approach. I think, if anything, it just broadens your scope."
Australia placed last in the 16-team Volleyball Nations League this summer while missing key players for several matches.
Preston will go Down Under in December when the OUA season is on a break. He'll be scouting players who could join the national program over the next decade.
"Right now men's volleyball is on an upward climb," he said, "and we've got a little ways to go."