OTTAWA – On a day when the tennis courts at Ottawa High School were dedicated to a pair of longtime coaches, the Pirates captured both singles matches and one at doubles to top La Salle-Peru, 3-2, on Monday at the Henderson-Guenther Tennis Facility.
The courts now are named for the late Tom Henderson and Lyle Guenther, who helped lead Ottawa to 59 sectional titles as well as numerous conference and invite championships combined in boys and girls tennis over five decades.
"Overall, I'm pleased with how everyone played today, and nothing really sticks out that I thought we could have done much better," OHS coach Matt Gross said. "Today was the first time the No. 3 doubles team had played together because of an injury. Everyone has been faced with the terrible weather here this last month, so you can't really say we hadn't had enough play, because nobody has.
"We played well throughout the lineup."
In singles, Ottawa's Adam Gross topped L-P's Riley O'Brien, 6-1, 6-0, at No. 1, while the Pirates' Sebastian Cabrera defeated Adam Kasperski, 7-5, 6-0, at No. 2 .
"We fought hard today," LP coach Aaron Guenther said. "You look historically, Ottawa has kind of taken care of LP. The fact that we were this tight with them was great to see. I think every match was both teams really getting after each other. I think both teams threw their best punch today, and Ottawa ended up just a couple points better.
"It was great tennis up and down the lineup."
All three doubles matches went to three sets, with L-P's No. 1 duo of Joe Pohar and Andrew Bollis improving to 18-4 on the season with a 6-4, 2-6, 6-4 triumph over Logan Goetz and Will Goetz.
"We kept talking to each other about staying energized, and in doubles you have to feed off each other's energy," Bollis said. "Our opponents were playing out of their minds and making some incredible shots, but I felt like, especially in the third set, we just played steadier."
"We didn't play very well in the second set; a lot of things went our opponents' way, and we were doing things that we shouldn't mechanically, "Pohar said. "But even with that, I felt like we stayed confident in what we were doing on the court and shook off bad points and just moved on. We struggled with the wind all match, but I think we finally adjusted in the third set. "
The Cavaliers' No. 3 doubles team of Elijah Arthurs and Luke Buck outlasted Ottawa's Ethan Cela and Karcin Hagi by a 3-6, 6-3, 6-2 count.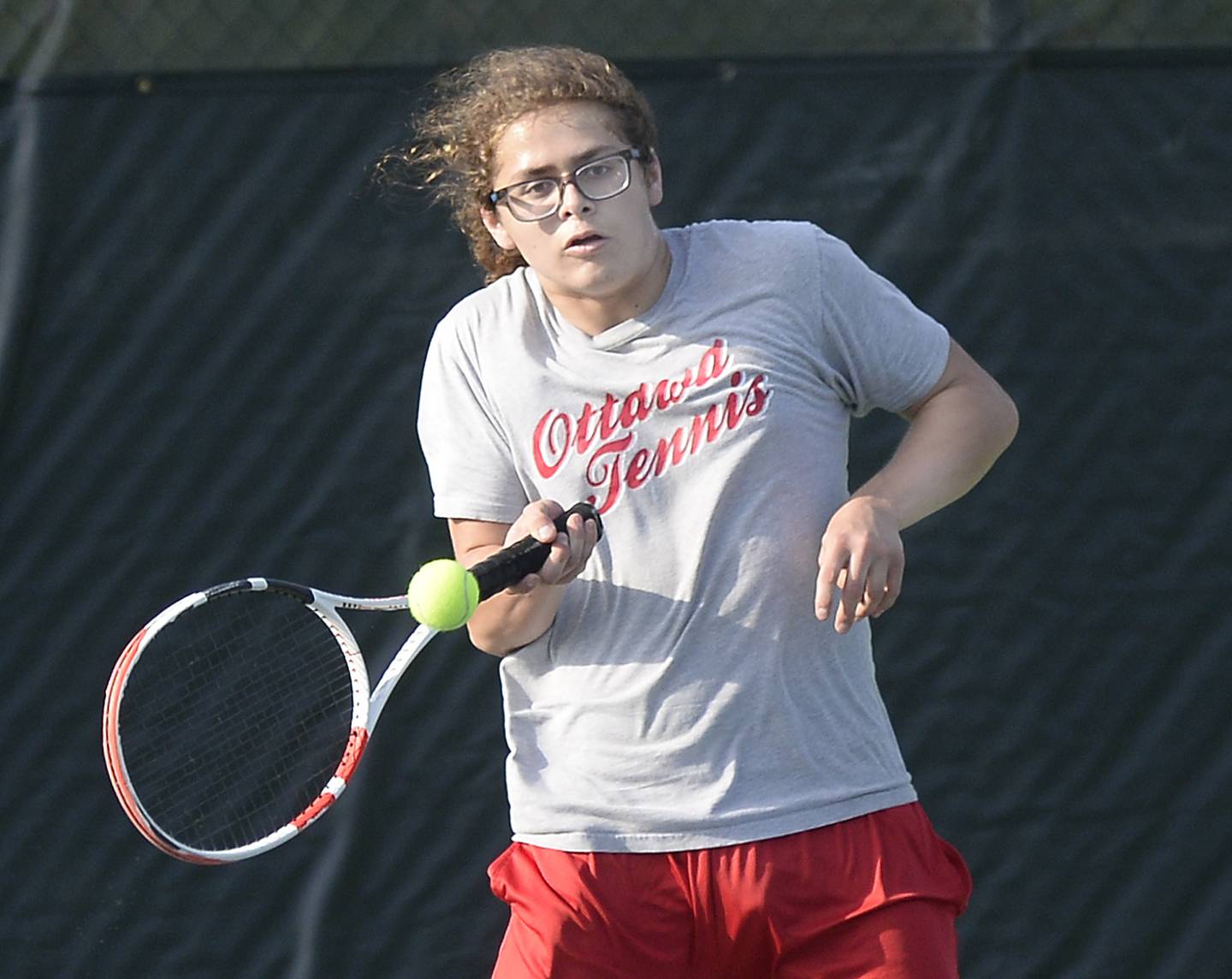 "I was really pleased with how our No. 1 doubles played," Coach Gross said. "I knew Pohar and Bollis are a solid team, and I thought Logan and Will Goetz played well. … I mean to take it to a third set and 6-4 … they played tough throughout the match. Adam and Sebastian were solid in their singles matches, while Ethan [Krafft] and Noah [Gross] came through when we needed them to. "
In the final match, Krafft and Noah Gross earned a hard-fought, 5-7, 6-3, 6-4 win over L-P's Traeger Abens and Ethan Picco.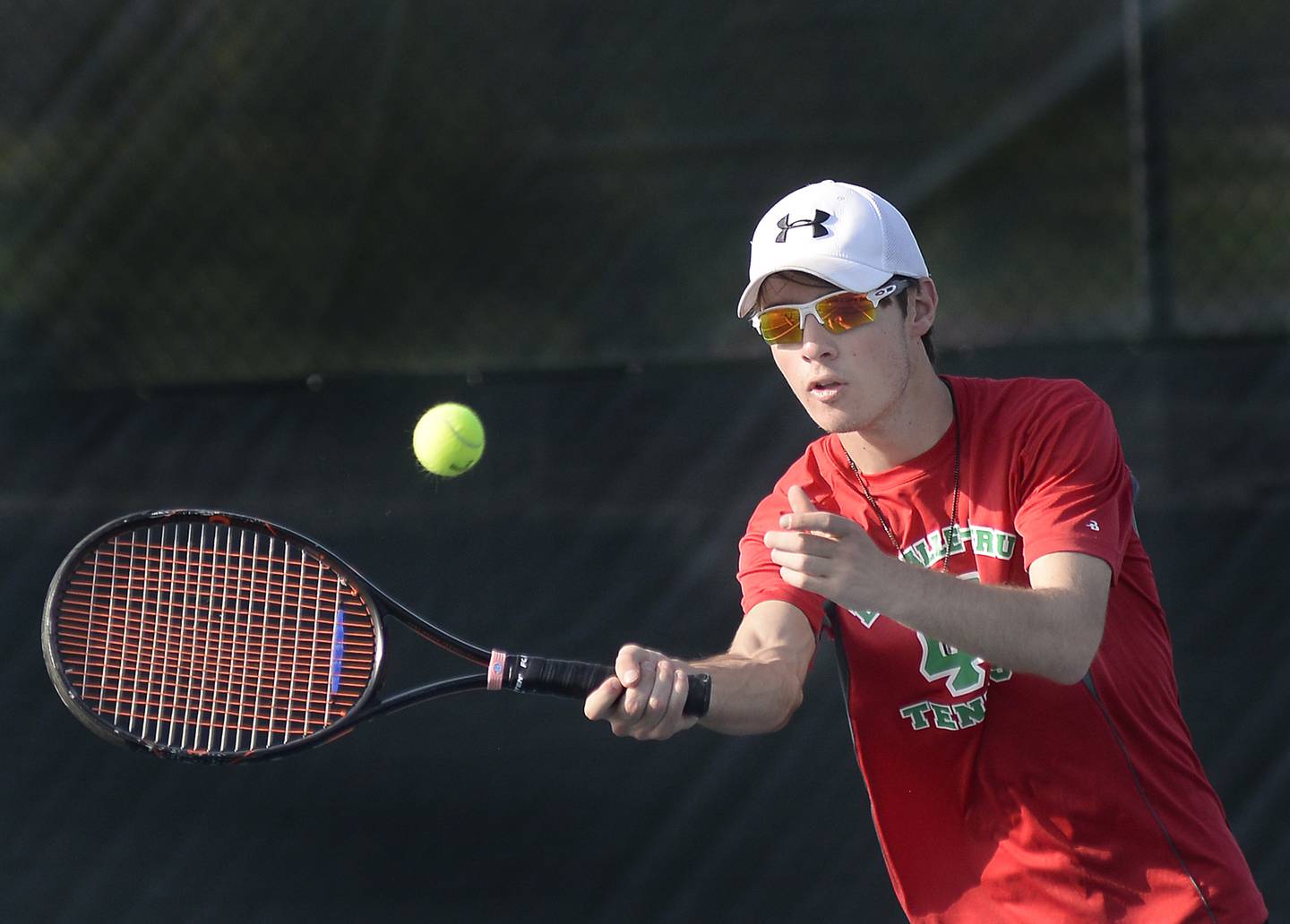 Although a little bit disappointed by the team's loss, Aaron Guenther said it was special to see his grandfather Lyle receive such an honor.
"Getting to learn from him as a player and a coach, I couldn't ask for anymore," Aaron Guenther said. "My first couple years as a head coach I would go to him for advice, and he'd tell me, 'Do your own thing,' but I wanted to know what he was thinking or how he would have handled the situation. I have my players go sit by him during matches, because I know the coach in him will come out. They get so much from that, and they are better players for it.
"Not that I wasn't already, but today made me proud to be his grandson."
Both teams are back in action Tuesday, as Ottawa hosts Streator for its senior day, while LP travels to play Coal City.
.