Openings Still Available for Youth Soccer Spring Season on STJ
Calling all kids on St. John!
The Castaways Soccer Club's program on St. John is starting this week, and there are still a few spots available for boys and girls in all age brackets.
Training sessions (the term for "practices" in the world of soccer) are held on Wednesday afternoons and Saturday mornings for children ages four to 16 at Trayser Field at the Gifft Hill School.
The Castaways youth soccer program is now becoming well-established on St. John. It began in 2021 with a dozen participants and has grown to include 65 boys and girls of all ages and skill levels, thanks to the dedication of director Aaron Payne, "coach of coaches" Matt Mattiuz, and five volunteer coaches.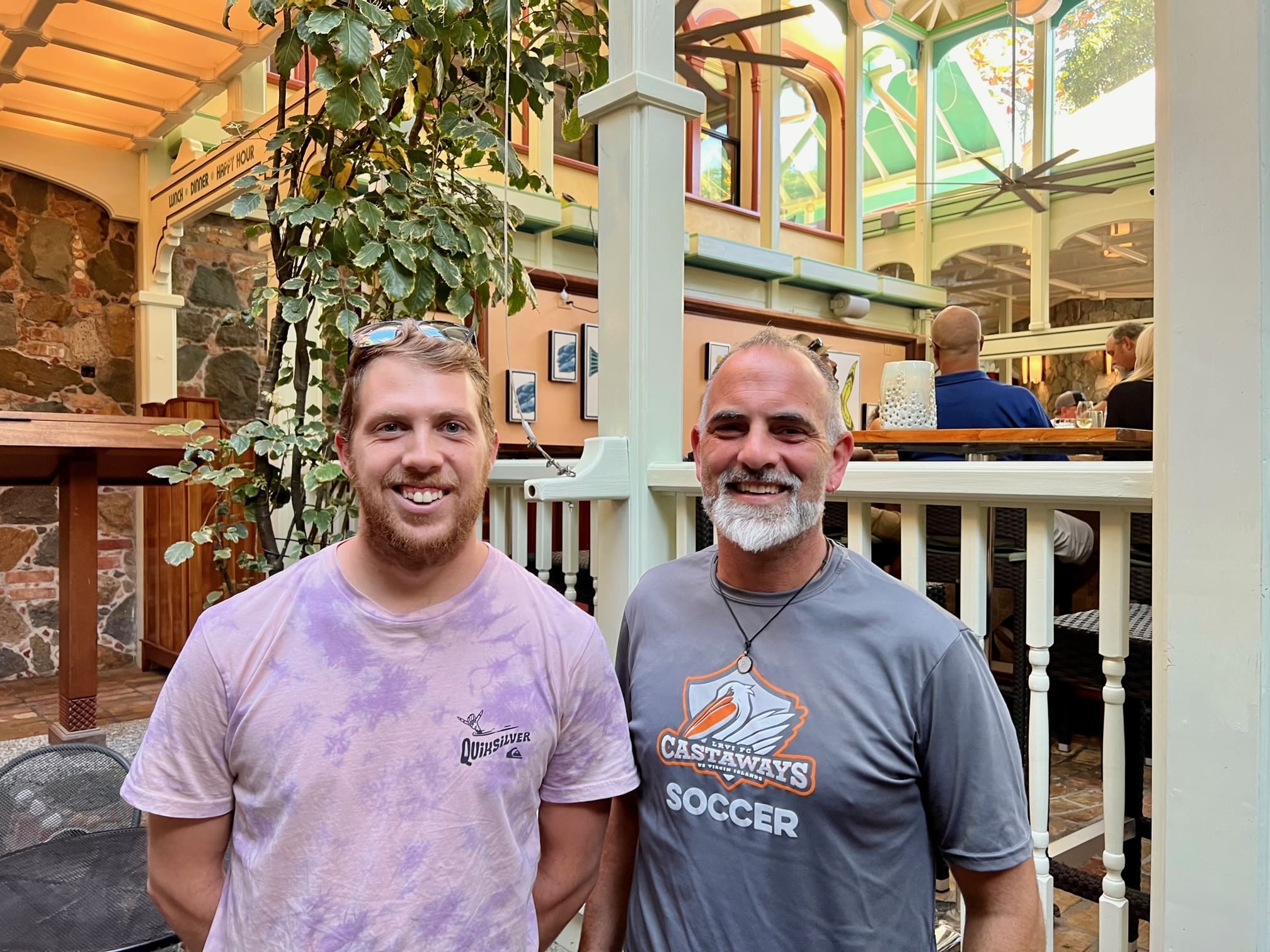 It's the newest Castaways Soccer (or Football) Club initiative. The club, under the direction of Joe Limeburner, started off with a men's division on St. Thomas in 2006 and developed a youth program on St. Thomas in 2014.
Close to 200 youngsters now participate in programs on St. Thomas throughout the week at the Castaways pitch (the proper term for a soccer "field") at Sapphire Beach.
On St. John, Castaways' soccer is notable for being one of the only youth team sports to run consistently since the pandemic. Mattiuz describes it as "a grassroots program" where the goal is to engage kids who have never played before, but he notes that the coaches modify instruction for youngsters with more experience.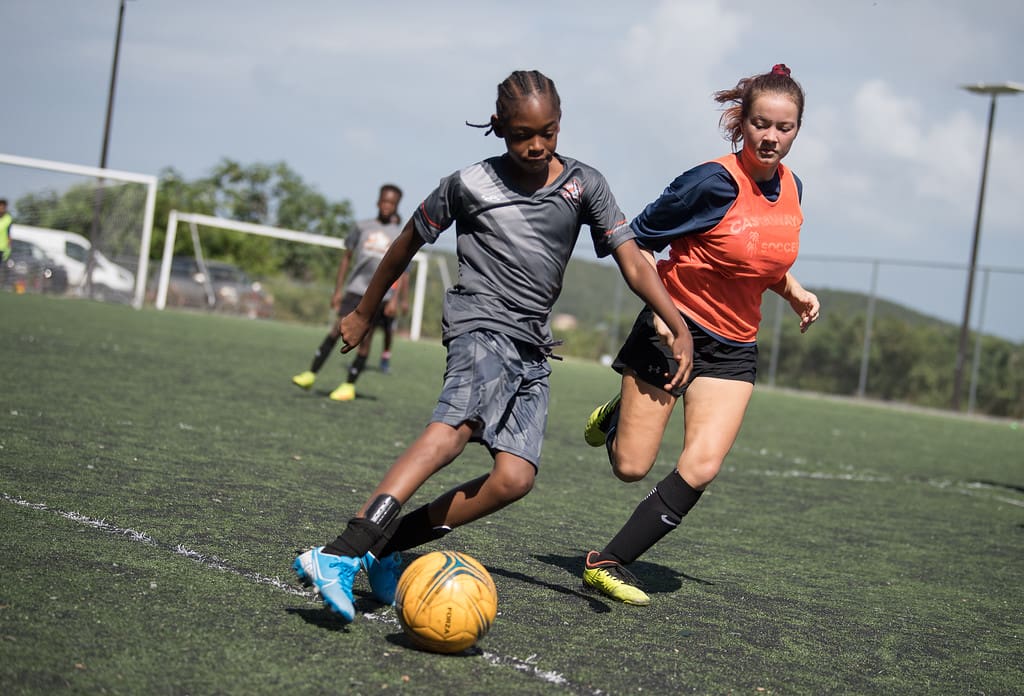 Teams are co-ed at this point on St. John. Payne said they don't have the numbers yet to field separate teams for males and females at all age groups, nor do they have the exclusive use of Trayser Field except for the contracted times on Wednesdays and Saturdays.
But that means that the kids truly focus during their training sessions, practicing footwork, learning soccer moves, understanding the roles of different positions, and developing ways to communicate.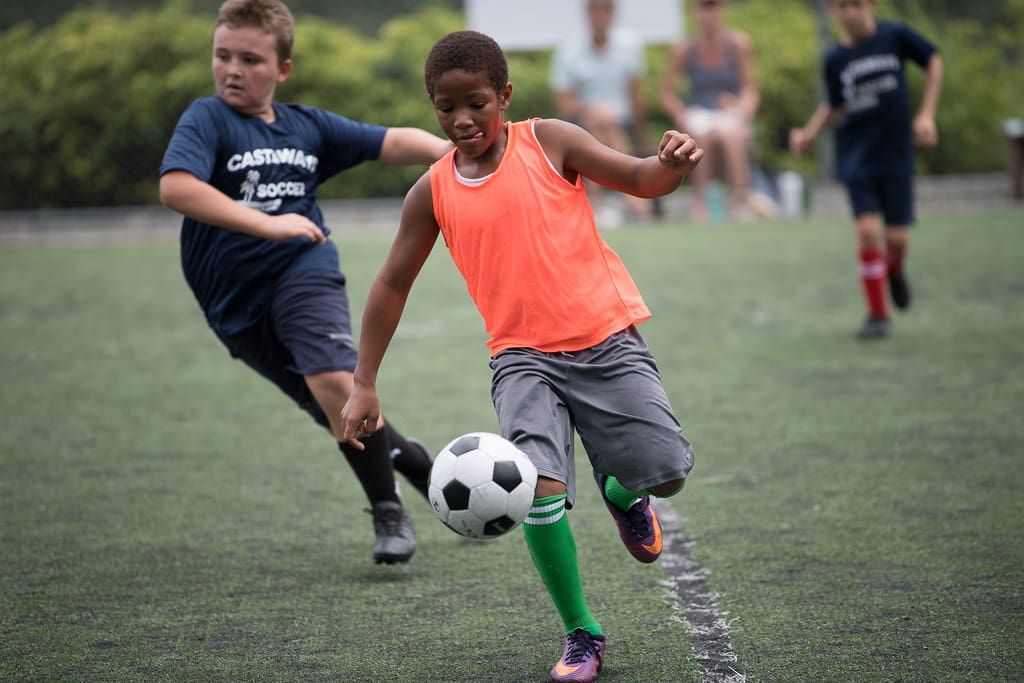 Payne's son Kallen (12) and daughter Brooklyn (14) play regularly, and Payne says he "parents" the other players as if they were his own.
Natural ability or skill level doesn't matter. "The only thing that we can expect is that you give 100 percent," said Payne. "You're supposed to make mistakes in a training session. We never expect perfection; we only expect growth."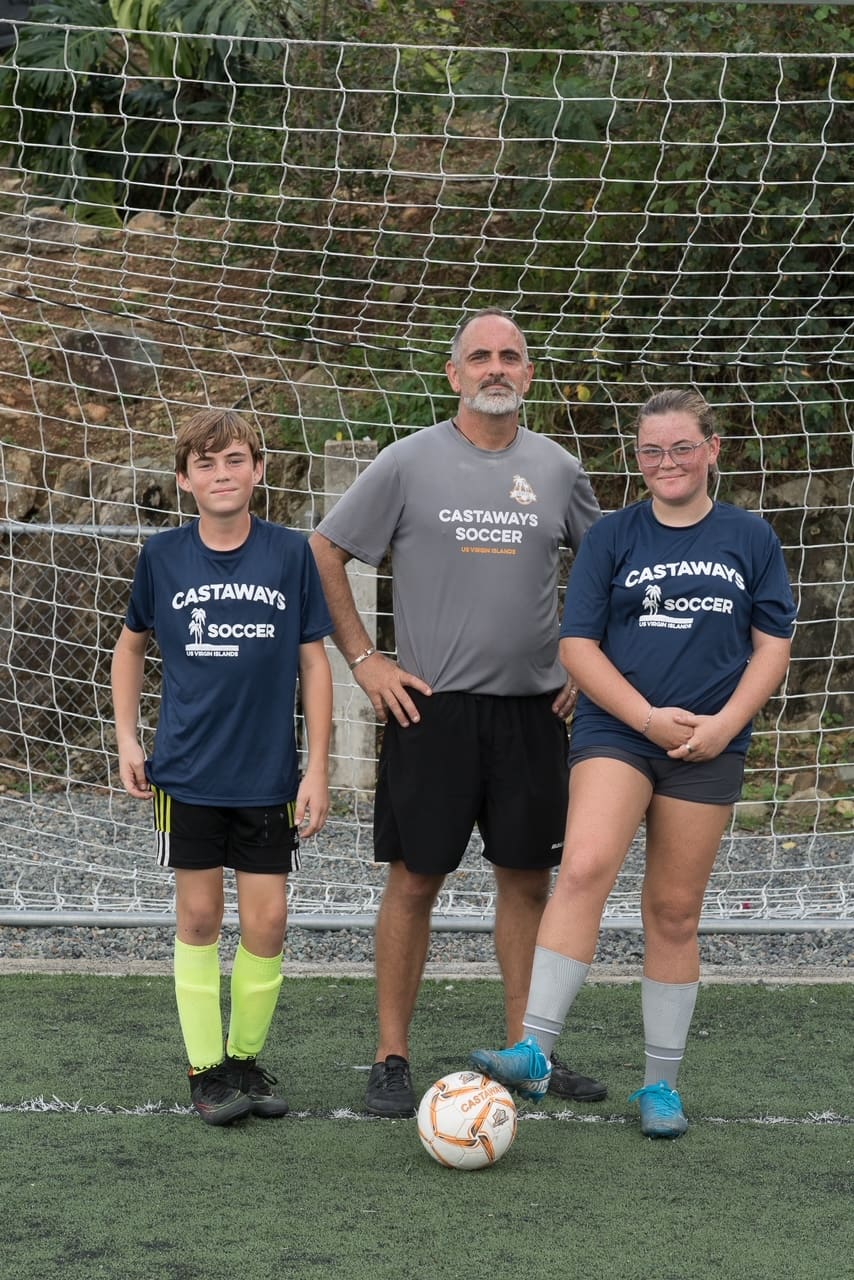 Castaways is a private club and is not funded by the government, so they charge a fee of $300 per term, but Payne says they will find funding for anyone who needs it. "We have sponsorships and financial aid for any child who wants to play," he said.
Plans are now underway to offer two one-week summer camp sessions on St. John for youngsters from both St. Thomas and St. John. "We're really one club," said Payne. The sessions will run from June 19-23 and July 31-Aug. 4.
This year, the coaches for the summer program include a retired player with the men's US national team, a coach for women's college soccer from Florida, and two others with extensive experience as youth soccer coaches.
(Castaways is now looking for community members who might assist the summer program by providing housing and transportation for the guest coaches.)
Finding experienced coaches on the island isn't always that easy, so Payne says it's fortunate Mattiuz has had years of experience as both a player and a college coach.
On St. John, Mattiuz continues to train Payne (who says baseball has always been his sport) and five volunteer coaches – Jimmy Nicholas, Bruce Magliocco, Mike Rose, Ryan Moore, and Nick Smith.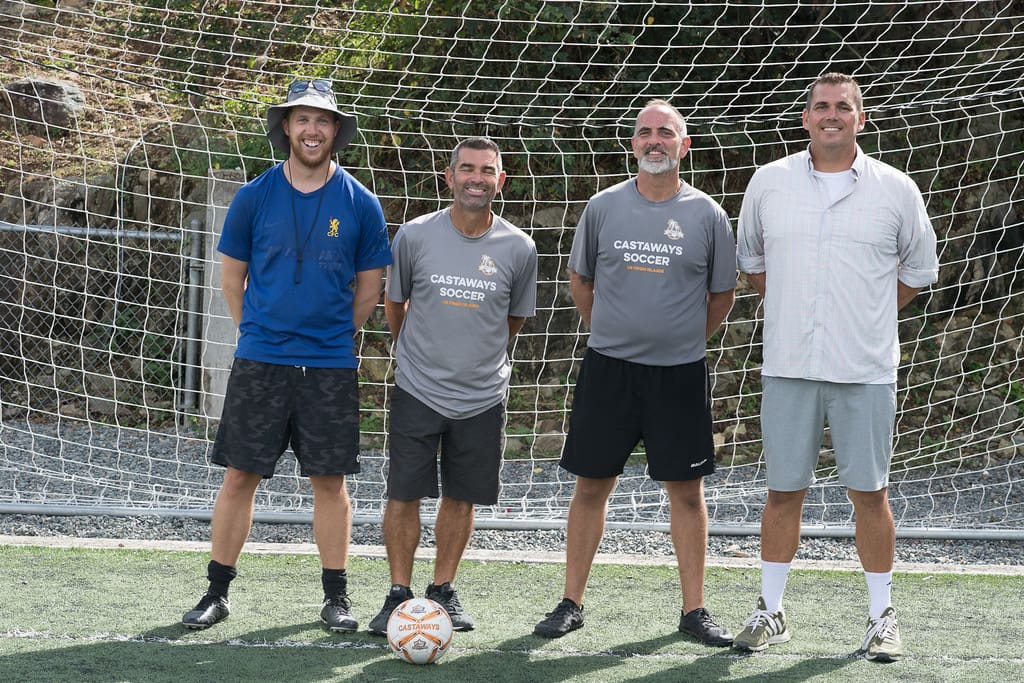 Soccer, which has been popular throughout the world for decades, is a growing sport across the United States; Communities host nearly 10,000 clubs and leagues, according to https://www.usyouthsoccer.org.
Asked why soccer has become so popular, Mattiuz said, "As long as you have a ball, you can play soccer. You can throw a couple of shoes down, and you have a goal."
On St. Thomas, Limeburner has worked with the community to convert a former tennis court at Sapphire into a small pitch complete with bleachers – known as Castaways Park – where youngsters can practice year-round.
Mattiuz said in addition to teaching the physical skills needed for the game, the sport develops "mental endurance, teamwork, and communication – life skills that are applicable elsewhere."
Payne credits Limeburner with expanding the program to St. John when a couple of parents like him wanted to create opportunities for kids to play. "Joe is an integral part of our program," he said. "This is his baby. He's the most selfless man I have ever met."
For more information about Castaways Club programs or to register for a program on St. John or St. Thomas, click here or visit their Facebook page or email [email protected]
Parents can sign up their children according to their age bracket. For example, "u6" refers to children under the age of six.
Payne can also be reached by phone at 843-295-3261.