Most Expensive Horse In History Was Sold For $70 Million- Here's Everything You Need To Know
The equestrian sports grabbed global limelight after the close encounters witnessed in the 2020-21 Tokyo Olympics. There has been an increasing focus on the quality of horses involved in the events. The popular notion of buying a horse that can win tournaments has been around for a long time, but it has seen a sudden increase in recent years. It looks like contestants are now being judged by the money they've spent buying their horses
However, with the rise in competition, the prices offered in the global markets for these horses can shock anyone.
Most expensive racehorse in the history of sports
ADVERTISEMENT
Article continues below this ad
While the name has changed over the years, Fusaichi Pegasus currently holds the title of the most expensive racehorse in the history of the sport. The horse was born in 1997 and had been trained by one of the greatest riders, Neil Drysdale.
The duo together won the prestigious Kentucky Derby in 2000 and made a whopping amount of $1,994,400. The stallion was bought for an expressive amount of $70 million by the biggest breeding powerhouse Coolmore Ireland, after his iconic performance in the Derby.
According to Horse and Hound the legendary Pegasus eventually retired in 2020. His stud fee also dropped to $7,500 from a whopping $150,000. However, Pegasus had a remarkable career with a long list of achievements.
DIVE DEEPER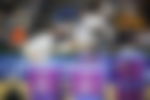 Upcoming Equestrian Events In 2023
After seeing the success of the competition in the Tokyo Olympics, the United States Equestrian Federation announced the upcoming series of competitive events between 2023-2027. The events were scheduled to begin in April 2023 with Rebecca Farm and Montana becoming the host.
ADVERTISEMENT
Article continues below this ad
Modifications to the 2023-2027 US Eventing Calendar for Area VI resulted in bid processes were opened for Week 15, 21, 40, and 42, and the following competitions have received bid allocations ⬇️https://t.co/kV0rETdMWg

— US Equestrian (@USEquestrian) January 19, 2023
The following months of May, July, October and November will also see the events happening in different parts of the country like North Carolina, Virginia and Florida. Would you be heading out to the races? Tell us in the comments.
ADVERTISEMENT
Article continues below this ad
WATCH THIS STORY: Top 10 Moments of Olympic Sporting Spirit