Longtime Sport Clips Franchisee Adds Big Blue Swim School to Portfolio | Franchise News
Cheston Syma is a franchisee looking for concepts that are "Amazon-proof."
It's what led him to Sport Clips and it influenced his recent decision to sign a 10-unit development deal with Big Blue Swim School for the Houston area. Syma said like haircuts, swimming lessons can't be given online.
"A big portion of the brick-and-mortar industry may be going away but I don't think haircuts or swim lessons are going anywhere," Syma said.
A former Marine, Syma later worked for the United States State Department for more than four years as part of a high threat protection team for diplomats and members of Congress. Looking to become an entrepreneur, Syma, a University of Houston graduate in business finance, decided to go the franchise route.
"Franchising is just mitigating risk, and all you have to do is follow their business model, which is usually a proven one," Syma said. "It's a good partnership to have and if you can follow their process, you should be successful."
Syma and his partners started with Sport Clips, initially opening two locations and expanding to 44 units in Illinois, Oklahoma and Texas.
"I was looking to diversify the portfolio, so I was looking at a few brands including Tommy's Express Car Wash and Big Blue Swim School," Syma said. "My partners chose Tommy's car wash, but I really liked Big Blue Swim School, so I brought in a different set of partners to join me on that venture."
Those partners are Setul Patel and Ben Kahn, presidents of Girish Capital and JDA Advisors, respectively. Syma said Kahn and Patel are his "financing gurus" and will handle raising the funds while he handles management and operations.
The total investment to open a Big Blue Swim School location is between $2.4 million and $3.9 million, with an $80,000 franchise fee. Kahn and Patel bring financing experience to the Houston deal, as Patel partnered with Syma on Sport Clips while Kahn has been in private equity his entire career.
Kahn said he was inspired to get involved when taking his own children to swimming lessons.
"One of my sons is a swimmer and was getting lessons, and that was when the lightbulb went off about the model," Kahn said. "That was my introduction to the opportunity, and I was proactively looking to get in the swim business."
What stood out to Syma was the technology aspect.
"Big Blue has an emphasis on technology where the kids wear wristbands that track their calorie burns, their strokes and keeps a leaderboard," Syma said. "I think the kids like that technology and the ability to brag about how fast and far they swam to their parents."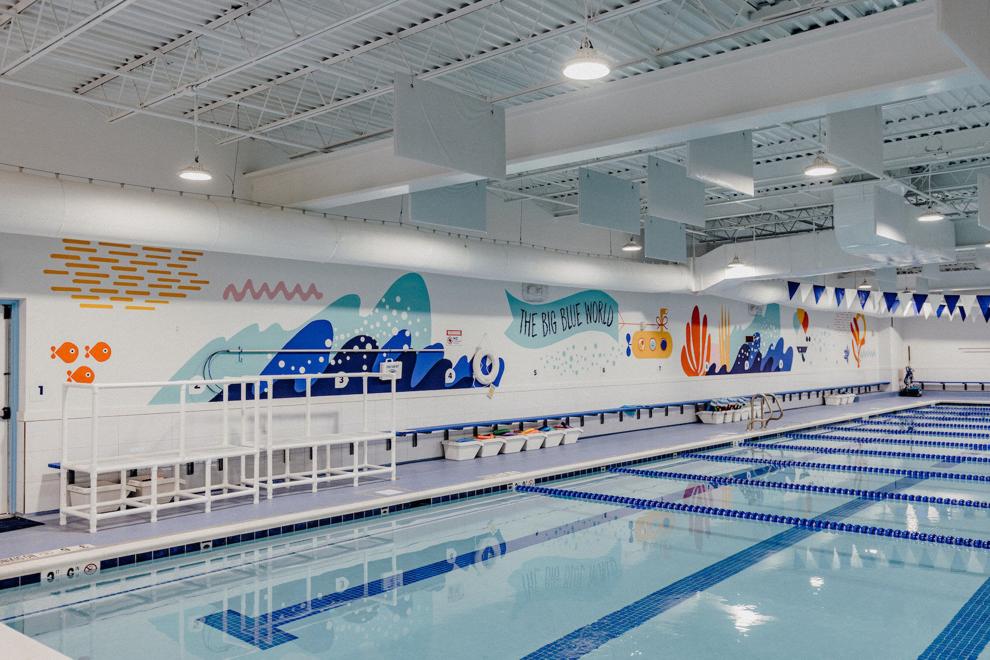 Syma said he was also attracted to the brand for its building size and labor needs.
"With labor, there's not as much need for technical skills," Syma said. "There's some training and CPR, which is moderate training, but you can have a full staff quickly, whereas Sport Clips requires 1,000 to 1,500 hours for certification. It's much easier to find a talent pool. The size of the pool is a competitive advantage, too, as we have a 10,000-square-foot footprint, allowing for a bigger pool with more students."
Syma also said the development deal will lead to a safer community.
"Houston has one of the highest drowning rates of children in the country and we're hoping we can make a dent in that," Syma said. "One of the reasons for that is there are so many pools, and our swimming weather is probably nine months of the year. With a lot of water, there's a lot of opportunity for dangerous situations. So, if we can teach children how to swim and make a dent in that number, it's a win for everyone."
Based in Chicago and founded by former competitive swimmer Chris DeJong, Big Blue has 16 locations open. Level 5 Capital Partners acquired a majority stake in the swim franchise in 2017.
.