Lewis Hamilton, Who Sits Atop the World of F1, Humbles Down to Stand Along Sporting Titans Tom Brady, Serena Williams, LeBron James & Roger Federer
Lewis Hamilton is arguably one of the greatest drivers of F1. The Mercedes star does not just make headlines for his performance on track, but also for his life off it. He was named one of the most charitable people in the UK recently. However, he's not content with everything he has done and wants to contribute to more great things.
Lewis Hamilton by many, is ranked in the same league as legends, like Serena Williams, Roger Federer, and Tom Brady. Moreover, the Brit just wants to sit down and talk with these great athletes. Roger Federer, who recently announced he'll be retiring after the Laver Cup, met Lewis and co. at the Spanish GP this year.
ADVERTISEMENT
Article continues below this ad
He talked about athletes who have dominated in their respective fields. Hamilton said he admires the "incredible mental strength" of NFL GOAT Tom Brady. "Also, he's an older athlete and he's killing it right now – I'm like, 'I want whatever you're having!' So there's lots to learn from everybody."
Lewis further explains, "The same with Serena (Williams), (Roger) Federer, even LeBron (James) – there's loads of incredible athletes out there doing great things."
The Mercedes driver concludes, "And to be able to be a part of that peer set – I always hoped one day we'd be able to relate to each other, so it's very surreal to sit with Tom and us to talk to each other on a similar wavelength. It's very, very, very surreal, very cool."
There's no doubt that Hamilton is equally deserving of being in the same league as some of the heavyweights of the sport. He has earned his place among the best with sheer dedication and hard work.
Lewis Hamilton says he's proud of rival Sebastian Vettel
Sebastian Vettel and Lewis Hamilton have had many intense battles over the year. Their rivalry has been a treat to watch for many F1 fans. Despite that, Lewis and Seb share a great bond of friendship and respect between them. The 4-time World Champion has certainly inspired the Mercedes great.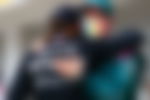 Lewis said, "With Seb for example, we've had some great races in the past and I'm so proud of him, of how he's gone through his journey and how he's opened up and how he's been outspoken … and continues to be. I have no doubt whatever he plans to do in the future, he will continue to do so."
ADVERTISEMENT
Article continues below this ad
He is grateful that his friendship with Sebastian survived the great rivalry between the two drivers. Additionally, Lewis also believes that he and Vettel will be even great friends in the future.
Hamilton said, "I think it will continue to grow and (we'll) be even better friends in the future – I'm really grateful for that."
WATCH THIS STORY: F1 Drivers Salaries Revealed: How Much Do Lewis Hamilton, Vettel & Ricciardo Earn?
ADVERTISEMENT
Article continues below this ad
Most champions release their potential when their back is against the wall. Lewis Hamilton finds himself in a similar position. Not having won a single race this season, he'll be hoping for the best in the next race in Singapore.
After Vettel, Hamilton is the most successful driver in the streets of Singapore. He has won the GP four times, while Seb has won it five times. Knowing this statistic, what do you say? Can the Mercedes driver fight back?