Let's Swim Bahamas relaunched | The Tribune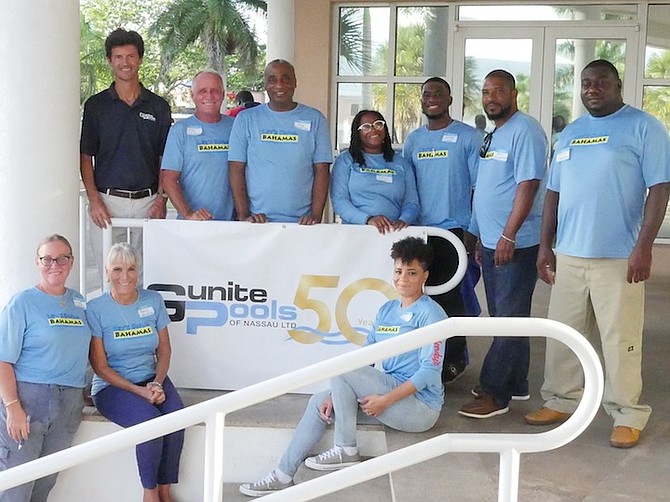 LET'S Swim Bahamas coaching and support staff are pictured above. Photo: Rufiner Saunders
By BRENT STUBBS
Senior Sports Reporter
IN relaunching its water safety program for primary school students, Let's Swim Bahamas is eager to get more Bahamians learning the importance of being able to swim in an archipelago surrounded by water.
Let's Swim Bahamas, led by the husband/wife team of Andy and Nancy Knowles, showed a documentary to a number of invited guests on Tuesday night at the Harry Moore Library at the University of the Bahamas.
It provided an opportunity for sponsors, stakeholders and the general public to get a chance to see what has taken place in the program since its inception in October, 2008 with the Thelma Gibson Primary School as its pilot project. Before taking a break because of the COVID-19 pandemic in 2020, the program had already spread its wings to more than 10 schools and with its relaunch, the Knowles and its team are out to reach all of the government primary schools in New Providence.
Zane Lightbourne, the Minister of State in the Ministry of Education, said the program is super important for the development of the nation, especially considering the amount of drownings that took place during the summer months when the children were off from school.
"This was the most active drowning season. I don't know what is happening, but it seems as if every other week you tune into the news, you hear about someone drowning," Lightbourne said. "So it tells us the need for people to have water safety skills and be able to learn to swim because we are surrounded by water."
While they won't be able to cater to all of the students, Lightbourne said they are making a stab at a big chunk of it. He said the young children in their schools look forward to the program.
"We have to catch them at an early age so they can develop the habit of learning how to swim before they get too old and venture into other things," Lightbourne said. "It's like riding a bike. Once you learn how to do it early in life, you can get to do it for the rest of your life."
Lightbourne said he was more touched over the testimony of Rufiner Saunders, a parent, who in the document claimed that she was fearful of getting into the water even when she took her children to the beach. He noted that like Saunders, who eventually got over her fears and did some swim lessons with Let's Swim Bahamas, she is now assisting the program, while her children continue to excel as swimmers.
Bahamas Aquatics' president Algernon Cargill, who was featured in the documentary, said they are just as excited about the program because it not only teaches the youngsters how to swim, but it also serves as a feeder system for their national program. "Andy and Nancy have done an excellent job over the years in teaching Bahamians to swim and Bahamas Aquatics fully endorses the program and we support Andy and Nancy in their endeavours," he stated.
The program has also benefitted the Bahamas Yachting Club, whose president Laura Lowe and her husband, Jimmy Lowe, were on hand to show their support of the Knowles and their crew of volunteers.
"We're absolutely supportive of Let's Swim Bahamas because it gets more persons involved in swimming, but it also benefits our program too because we already have one of the swimmers who was referred to our youth sailing program." Lowe said.
"This program is teaching youngsters how to learn how to swim and I'm loving it. It makes a big difference because we need to provide avenues for more persons to be able to learn how to swim."
Lowe said their summer program is similar in nature in that they also cater to the majority of competitors from the public schools, at least 70 percent, so it's a plus that they work together for the benefit of all involved. Lightbourne said the documentary was well put together as it showed the commitment of the organizers and the participants to excel in the program. He noted that he was even more keen to see that the children involved are more disciplined with their academic pursuits.
Parents are only allowed to pay for their swim gear. All other aspects of the program, including their transportation to and from their school to the swim facilities at the University of the Bahamas and St Andrew's School, are provided free of charge as well as their one-hour lessons each week.
The Knowles indicated that the documentary will be shown at a national level on television. However, persons interested in learning more about the program can visit the website – www.letsswimbahamas.com – for more information.