'I Wanted to Be a Gymnast' – Serena Williams Once Revealed Bizarre Career Dream as She Was Obsessed With Winning an Olympic Gold
Serena Williams is the first name that comes to mind when we speak of women's tennis. The American has ruled modern-day tennis and has won 23 Grand Slam titles. The 40-year-old has also done well in doubles. Pairing up with her sister Venus Williams, she has won 14 major titles.
In tennis, winning a Grand Slam is the highest achievement for any player. However, a gold medal in the Olympic games holds a special value of its own.
ADVERTISEMENT
Article continues below this ad
Back in 2012, Serena Williams had already won two gold medals, playing doubles with her sister. She later revealed that it was her childhood dream.
Serena always wanted to win an Olympic gold medal
In 2012, Serena had two tennis doubles gold medals to her name. While many consider it easier to win in doubles, Serena strongly opposed it. "Gold is gold," she said. Further, the former world number one revealed that she always wanted to win a gold medal in Olympics. However, she dreams of it as a gymnast.
"Don't laugh… but I wanted to be a gymnast because of the Olympics. Obviously, that didn't work out, and it worked out in another sport. But the Olympics inspired me to be a part of sports and to watch sports and to do things," she added.
DIVE DEEPER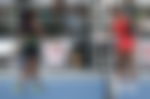 Today Serena has three women's doubles Olympic gold medals and one in singles.
Serena Williams gets a tough draw in the Canadian Open
Serena Williams will be back in action in the Canadian Open. The Toronto-based tournament will be her first after a disappointing first-round exit in the Wimbledon Championships. To prepare for the US Open, the 40-year-old will start her campaign against a qualifier in the first round.
ADVERTISEMENT
Article continues below this ad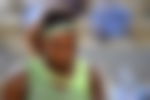 However, the next-round opponent for Serena will be either Tokyo Olympic gold medalist Belinda Bencic or former world number 1 Victoria Azarenka.
Watch this story: Serena Williams' effortless game floored Naomi Osaka as she talked about her greatness
ADVERTISEMENT
Article continues below this ad
Current world number 1 Iga Swiatek and former US Open champion Naomi Osaka also feature in her quarter of the draw. Serena is entering the tournament unseeded this time. Although she has won it thrice and made it to the finals in 2019.