Hendrick Motorsports Take Big Step Towards NASCAR Supremacy Long Before 2023 Season Starts
Every NASCAR team has a social media department, and Hendrick Motorsports is no different. Social media is important because teams need it to interact with fans. Of course, the teams need to produce content, so there is a dedicated team to produce such content for online platforms. The social media and content teams play an integral role in the portrayal of the racing brand off the track.
ADVERTISEMENT
Article continues below this ad
One of the key members of the Hendrick Motorsports social media team is the graphic artist and content capturer, Justin Nicely. To be honest, this is his maiden attempt into the world of stock car racing. His prior experience included working in college football, particularly with several NCAA Division I universities. It is also worth mentioning that his field of expertise was graphic design and photography. And he joined Hendrick Motorsports in August.
ADVERTISEMENT
Article continues below this ad
DIVE DEEPER
What did he say about his plan for Hendrick Motorsports?
ADVERTISEMENT
Article continues below this ad
Justin said, "We're kind of bringing a new look. So far, it seems like it's been perceived very well from our fans, which is cool to see. It can be a big responsibility and sometimes be a little bit stressful to make content for as many people as we do and the big sponsors that we work with. It's definitely a blessing to be put in charge of that in a way."
He further added, "It's a big responsibility but it's fun to see the interaction. To see our fans use it as their wallpapers or in their own groups and profile pictures has been really cool. It's kind of giving energy to our fan base through graphics."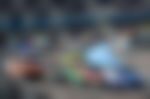 Nicely's projects mostly revolve around directly engaging fans and building excitement around the team. Now that he is part of one of the biggest NASCAR Cup Series teams in the professional field, things have gotten better. This is because he still possesses the knack for engaging with fans and creating content that caters to them.
ADVERTISEMENT
Article continues below this ad
WATCH THIS STORY: Hendrick Motorsports Legend Decodes the Secret to Kyle Busch Saving JGR's Blushes With His Actions