WILLIAMSTOWN – Two of the top Berkshire County tennis schools took to the Williams College courts on a sun-kissed Monday afternoon. Things went pretty much as expected, meaning that each school escaped with close, hard-fought victories.
The Greylock boys handed a short-handed Lee squad it's first loss in a 3-2 decision. A three-set win by Greylock seventh-grader Tate Carothers over Lee's Josh Perrier was the deciding victory in a match where the top two Wildcats were in street clothes due to injuries.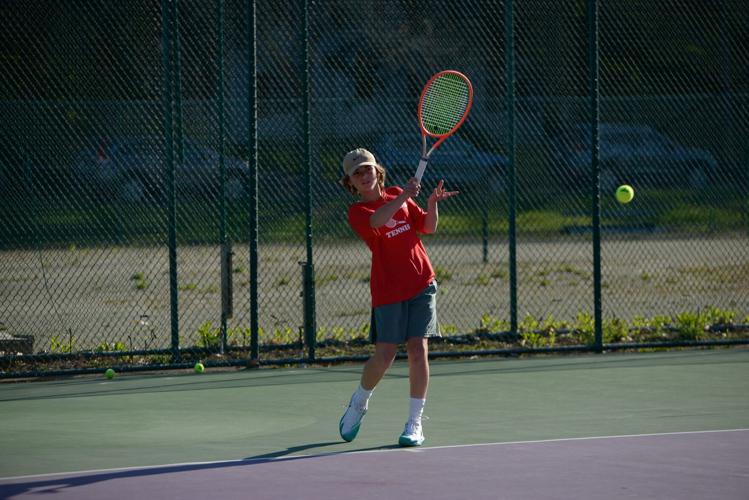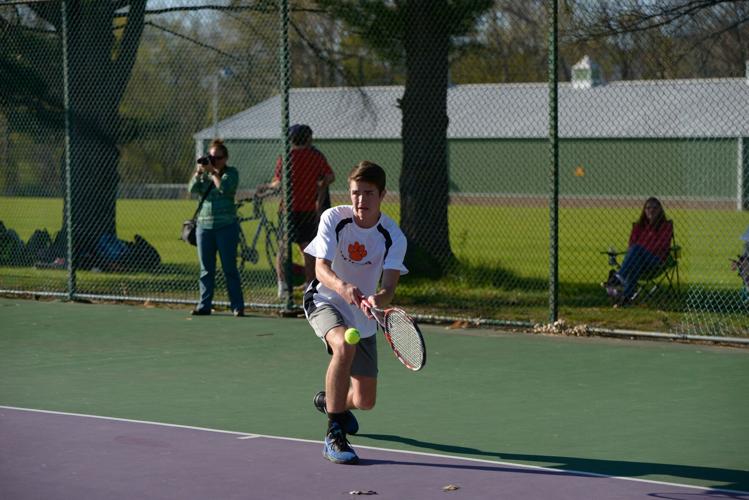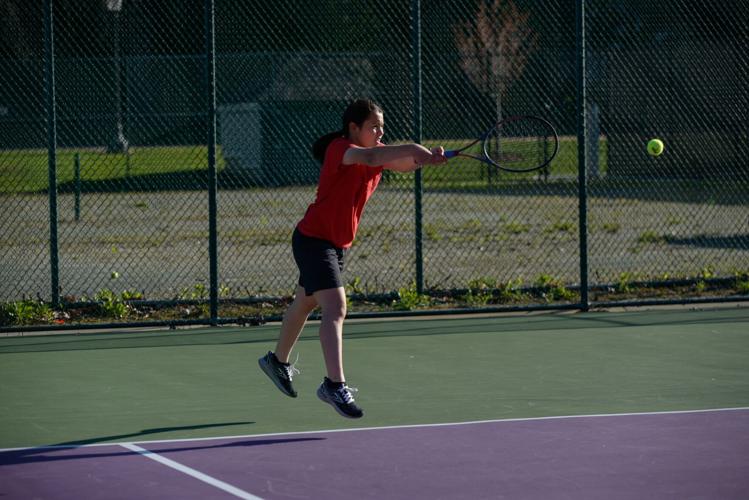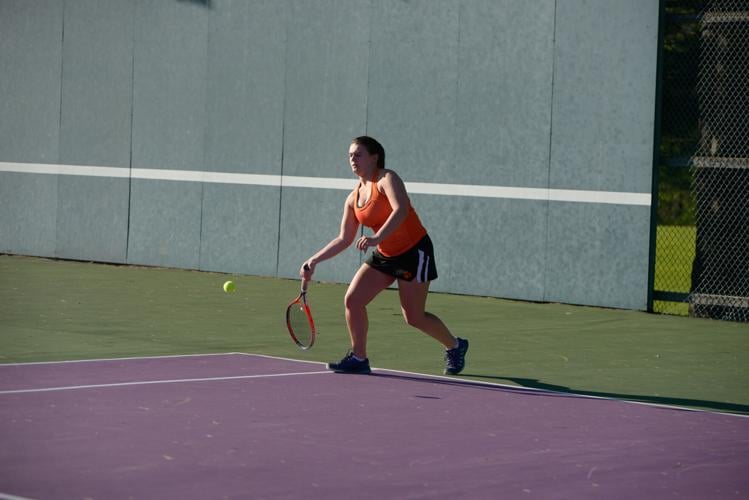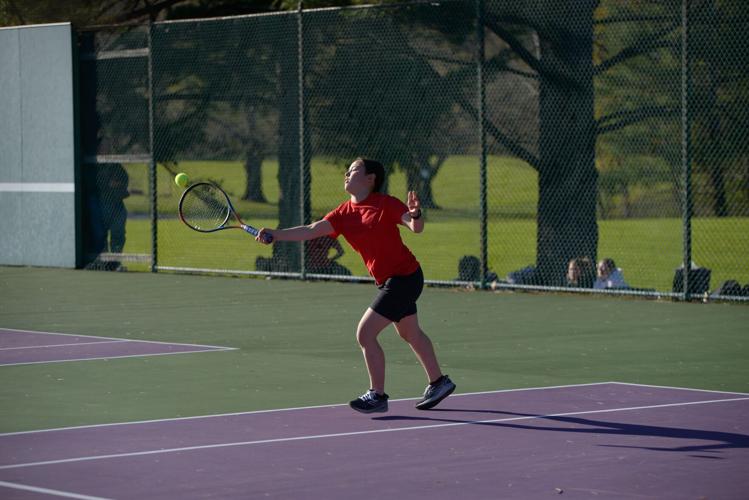 The Lee girls, meanwhile, had only lost one match all year and that was to Greylock back in early April. The Wildcats took the rubber match Monday with a 3-2 win. Caroline Maloney's three-set win at No. 2 singles over Greylock's Mia Patrick was the deciding match.
"It's always a challenge coming up here. It's always been for the last six years that I've played here, it's always a good game, "Maloney said after her 7-5, 2-6, 6-4 win over Greylock's Patrick. "The extra competition makes you better and I think we all played very well."
Maloney said that she and her teammates were just thinking about the match that day, and not the one back on April 11, when the Mounties earned a 4-1 win at Lee. The two teams played in Lee again on April 27, and the Wildcats won 3-2.
The difference on this day was that Maloney and Rachel Wendling swapped spots. Playing at No. 1, Wendling beat Mai O'Connor 6-4, 6-4, and was the second Wildcat off the court.
"My mindset in the second [set] wasn't what I wanted it to be, "said Maloney, referring to the second-set loss. "Going into the third set, I knew I had change and be more focused on my hits and where I was placing them."
The day did not start well for Lee, which watched No. 3 singles player Annie Herman hobble off the court during the first set and retire against Charlotte Holubar. The Wildcats won three straight matches before dropping the No. 1 singles, accounting for the 3-2 final.
"I didn't know what was going to happen. It was so close, "Lee coach Norma Comalli said. "I'm really proud of Caroline and Rachel. They had their hands full. The girls they played are really wonderful, great players and good competitors. It was a good, competitive match. It was great. "
On the boys' side, the Wildcats came in without Matt Petrescu and Cooper Maloney, which forced Lee coach John Perry to move players around. That the final was 3-2, the same as the first time the Mounties won had first-year coach David Singer breathing a sigh of relief.
"They surprised us. They have a pretty deep team so [Perry] can be without his top players and still compete with us, "said Singer. "It would have been nice to play their best lineup."
The boys' match decider came at No. 1 singles, where Carothers beat Perrier 4-6, 6-1, 6-4.
"I've been in that situation many times where I lose the first set. I'm more of a second-set player, "Carothers said. "I was confident I was going to do better in the second set. In the first set, I was really tight and I couldn't really hit any good shots. I was trying to go for consistency more than power. In the second set, I realized I had to go for placement, and I started moving him around, which worked for me. "
The result of the day, however, came after the boys competition was decided. As daylight turned to dusk, Lee's Matt Kinney and Greylock's Alton McIntosh were involved in quite the battle at No. 3 singles. Kinney won the first set 6-2, lost the second set 3-6, and found himself down to the Greylock player 0-5 in the third set. But Kinney came roaring back to tie the set and then won a third-set tiebreaker 7-5 to take the match.
And while Lee took two out of three in the regular season, these teams could see each again in the MIAA State Division IV Tournaments.
"It was a great high school competitive match, and you couldn't ask for much more," he said. "Obviously, you'd like to come out [on top] 3-2, but I'm super proud of my team. We'll keep battling and try to turn these 2-3 scores into 3-2 as we move on. "
———
Lee girls 3, Mount Greylock 2
Singles – 1. Rachel Wendling (L) def. Mai O'Connor 6-4, 6-4; 2. Caroline Maloney (L) def. My Patrick 7-5, 2-6, 4-6; 3. Charlotte Holubar (MG) def. Annie Herman, ret.
Doubles – 1. Piper Schulman / Effie Skinner (MG) def. Anna Martin / Amy Desiata 6-4, 6-7 (5-7), 11-9; 2. Shae Kelly / Sophie Herman (L) def. Beatrice Pedroni / Charlotte Towler 6-0, 7-5.
Mount Greylock boys 3, Lee 2
Singles – 1. Tate Carothers (MG) def. Josh Perrier 4-6, 6-1, 6-4; 2. Josh Rudin (MG) def. Josn Hartman 6-3, 4-6, 6-0; 3. Matt Kinney (L) def. Alton McIntosh 5-2, 3-6, 7-6 (7-5).
Doubles – 1. Ben Cooper / Alejandro Smith (L) def. Drew Scanlon / Troy Michalek 6-1, 3-6, 6-2; 2. Adriel Benko / Luka Hirsch (MG) def. Elliot Winston / Kyle Morandi 6-4, 6-1.
.