Former MLB Star Turned Bodybuilder Became Super Jacked After Swapping Baseball for Bodybuilding
Several players in the history of American sports have swapped their initial chosen sport with another sport. But everyone does not succeed in doing so. However, Kyle Farnsworth, a former MLB pitcher, swapped baseball for bodybuilding earlier this year and succeeded with utmost precision.
ADVERTISEMENT
Article continues below this ad
In his sixteen-year-long MLB career, Farnsworth played for nine different teams and had a successful career. He retired in 2014 from MLB and pitched professionally for the last time in 2016 in a Mexican Baseball League. After retiring, Farnsworth was seen in a totally unrecognizable appearance earlier this year when he shared his picture on Twitter.
ADVERTISEMENT
Article continues below this ad
Kyle Farnsworth's unrecognizable physique
Kyle Farnsworth had a fantastic career in MLB, where he played from 1999 to 2014. Farnsworth pitched for 16 seasons with an Earned Run Average of 4.26. Moreover, his innings pitched counted as 988.2, and had 963 strikeouts.
The 2016 Kyle Farnsworth and the 2022 Farnsworth have completely different physiques. Farnsworth had an incredible transformation before he took part in his first bodybuilding competition in June 2022.
DIVE DEEPER
In the picture he shared on Twitter, Kyle wrote, "Very rare gym bathroom selfie. 4 days out to my first body building competition. Classic Physics. These past few days have been fun with no carbs!" Farnsworth looked extremely shredded and massive before the Classic Physique competition. How well did Farnsworth perform in the competition?
Kyle Farnsworth made a dream debut in bodybuilding
ADVERTISEMENT
Article continues below this ad
After having a wonderful career in baseball, Farnsworth entered his second career earlier this year in June. Moreover, Kyle Farnsworth competed in three divisions at his amateur debut in bodybuilding. He competed in Classic Physique, Open Classic Physique, and Masters 35+ Classic Physique at The Souther USA National Qualifier, Sheru Classic.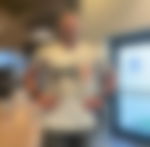 Moreover, Kyle won gold in all three divisions he competed in. The 6'3″ tall and 245lbs weighing MLB star made an outstanding debut in the next phase of his life. Moreover, while talking to Barbend, Kyle confessed, "he was feeling a bit flat but I think that was more my mind playing tricks on me."
ADVERTISEMENT
Article continues below this ad
Watch this story: From Young Age to Becoming a Beast Bodybuilding Legend Arnold Schwarzenegger's Insane Transformation
Kyle Farnsworth has begun his new journey with excellence. It will be interesting to see his progression in the bodybuilding world. Do you think Kyle can continue his good run in bodybuilding just as well?