Daniel Ricciardo Once Teased an X-Rated Venture After His F1 Career Was Done & Dusted
Daniel Ricciardo does not have an F1 seat for next year. After mutually terminating his contract with McLaren, Daniel is yet to sign with another constructor for next year. Moreover, with time against him and a poor stint at McLaren, a seat in an F1 car looks highly unlikely for the Australian next year.
ADVERTISEMENT
Article continues below this ad
Since Daniel is currently on the hunt for a job, an old video resurfaced where he shares what he would like his next job to be. Talking to a reporter sporting his Renault uniform, the report asked Daniel Ricciardo about his next job after F1. His X-Rated job profile was not the answer the reporter was expecting.
ADVERTISEMENT
Article continues below this ad
The Australian replied, "Probably a married stripper". The reporter was shocked by his response and took a couple of seconds to organize herself. She further asked Daniel "Where?" before both of them burst out laughing.
Ricciardo's nightmare in McLaren colors will soon come to an end after the remaining six races. However, he must perform in those races to stand any chance of driving an F1 car next year.
After his McLaren gave up in Monza, Ricciardo will now hope for a strong performance in Singapore. The former Red Bull driver has only scored 19 points this season. Meanwhile, his teammate Lando Norris has 88.
Karun Chandhok is rooting for Daniel Ricciardo to secure a seat next year
Karun Chandhok backs Daniel Ricciardo to secure a seat for next year despite the whole silly season drama. However, the Indian admits that it won't be a straightforward decision for the Australian to die.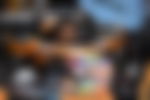 Karun said, "I think it's gotten a bit tricky now. The market is moving so quickly, I think if you're a team like Williams or Haas, if you have the choice of getting Daniel Ricciardo or a young rookie, you should think about getting Daniel Ricciardo. Ultimately, though, it's going to come down to the financial sense of it."
ADVERTISEMENT
Article continues below this ad
He further added, "For Daniel to take a seat at Williams or Haas, there is going to be a financial knock-on effect with that. So, is he willing to take a pay cut and drive for a team like Williams or Haas? Or does he feel he doesn't want to do that?
"That's an interesting one for him to decide."
ADVERTISEMENT
Article continues below this ad
WATCH THIS STORY: Daniel Ricciardo gets Canceled On Social Media With Latest Radio Message
With the silly season at its business end of the calendar year, there are still six races to go. We've seen this season, and in F1 in general, that anything is possible. However, if Daniel does not get a seat for next year, he'll still have his X-rated profession to jump back on. Will Ricciardo secure a seat for the next season?