Cyan Racing had requested BoP weight change specific to Lynk & Co » TouringCars.Net
Cyan Racing had requested a Balance of Performance weight change which was specific to only their cars, says WSC President Marcello Lotti, which could not be granted ahead of this weekend's FIA World Touring Car Cup races.
Despite all teams being offered a 20 kg weight reduction ahead of the WTCR races at Anneau du Rhin this weekend, Cyan Racing still decided to withdraw from the remainder of the 2022 season, citing ongoing 'tyre safety issues'.
In a press conference at the Alsace circuit on Saturday, Marcello Lotti, President of global TCR rights holder WSC Group, explained to TouringCars.Net that they had received a specific request from Cyan Racing for a further reduction in the weight of only the Lynk & Co 03 TCR, the oldest car in the WTCR field.
– Advertisement –
"We received a request in our technical department from them, and they said 'OK there is a 20 kg reduction in the car' but they also requested to have a change in BoP for their car, to have a reduction of another 30 kg, said Lottie.
"We explained very clearly to them that for us the question of timing was impossible to make an adjustment dedicated to the BoP of Lynk & Co on time.
"Before we can adjust the BoP we have to have a clear analysis of the changes that we apply where the car will be positioning compared to the others.
"To make this without enough time, especially linked to weight and [ride] height, was for us not really fair in terms of BoP and especially not fair for the other competitors. And so we said it's not possible to make this kind of decision today."
Lotti did not rule out that the weight of the Lynk & Co 03 – the heaviest car in terms of BoP weight (excluding compensation weight) – could have received further weight reductions given sufficient time in the future.
"Probably with time it could be a better evaluation – 30 kg or probably also 50 kg working with the power of the engine – but you can imagine it is not something to make from today to tomorrow, it is something to make a request with time , and it was not possible.
"What we confirmed to them was that, and the FIA ​​also confirmed this, this 20 kg and ten new tires for the event per car – that is 22 tires. Some national TCR series may go for the season with this."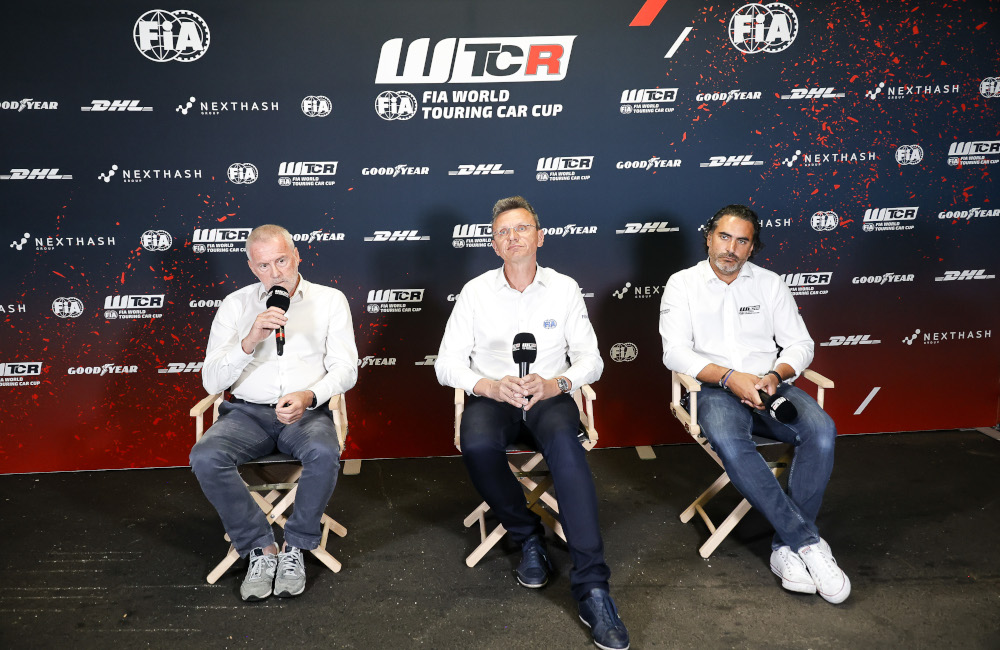 Marek Nawarecki, the FIA ​​Director of Sport and Touring Cars Department, said that the FIA ​​had not received any specific conditions to be met from Cyan Racing which would have allowed them to complete the rest of the season.
"From my side, what I can say is that we had a couple of discussions with Cyan before this race and also last week on the technical side, to explain the plan that has been set out to reduce the type of risk related to the tires with the weight reduction," said Nawarecki.
"On the FIA ​​side, we didn't receive any specific request. We understood from the discussions we had that the main wishes on the technical side was to have a further weight reduction, but nothing official on our side that we can consider that was the direct reason for their decision."
Cyan Racing has been running with a Balance of Performance weight of 50 kg on the Lynk & Co 03 – the joint most along with the Hyundai Veloster N, weight which has been added since August 2021 (prior to this its BoP weight was 60 kg) .
The Lynk & Co 03 also runs with an engine power of 97.5% – at present, the only cars running below 100% are the Hyundai i30 N, the Hyundai Veloster N and the Hyundai Elantra N.
Whilst the car runs with a ride height of 80 mm, two models of car (both Hyundais) run with a higher height of 90 mm whilst two further models share the car's 80 mm ride height.
Responding to the comments from Lotti on the BoP request, Cyan Racing issued an additional statement saying:
"We did not deem the 20 kg reduction in weight, that has been introduced by the WTCR stakeholders, as enough to resolve the tire safety issues.
"This would for example mean that our cars would still be heavier than at the Nürburgring races where the Cyan Racing cars, as well as other cars, suffered tire failures and the races were canceled on safety grounds by the WTCR.
"We requested a 30 kg reduction specifically for our model which has been the heaviest since its introduction in 2019.
"This further reduction in weight would still have the Lynk & Co 03 TCR as the heaviest car in the WTCR but still provide us with a much better option to adjust the chassis after the tires, as other teams do with lower weight, in order to be able to perform full race distances safely without tire failures."