Big return for Big Bird as he's honored by the Ottawa hockey community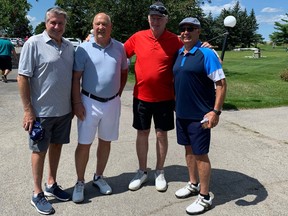 Article content
As the honors, tributes, memories and handshakes greeted Larry Robinson on Friday, he took all of it in stride.
Article content
"It just means I'm getting old," Robinson said with a hearty laugh, only minutes before teeing off as the guest of honor at the 50th version of the Ottawa Valley Hockey OldTimers tournament at the Hylands Golf Club.
"It's lovely. COVID has put such a cramp on everything in the world. This is the first time that my wife and I have been back home in almost four years, so to be able to come back to your home town and not just see old friends and acquaintances, but to be honored, too, it's very special. "
Article content
After a two-year pandemic absence, the well-organized OVHO tournament returned with a bang.
The Big Bird was the big fish Friday, but he was also joined by fellow Hall of Famers Brian Kilrea, Denis Potvin, Bob Gainey and 180 other golfers. Golf was the game being played, but the humid air was full of endless tales of Robinson's career.
Article content
Robinson's story is, of course, the stuff of legends.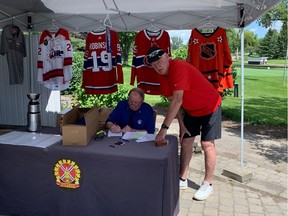 Born in Marvelville, a slapshot away from Winchester, the towering defenseman first made his mark with the CJHL's Brockville Braves, the OHL's Kitchener Rangers and the AHL's Nova Scotia Voyageurs.
Then came his reign as a dominating blueline presence in the NHL, a lynchpin for the Montreal Canadiens dynasty of the 1970's.
After finally wrapping up his career with the Los Angeles Kings in 1991-92, Robinson finished with 208 goals and 750 assists in 1,384 NHL regular season games.
Perhaps even more impressive, he delivered 28 goals and 116 assists in 227 playoff games.
He won the Norris Trophy in 1976-77 and 1979-80 and the Conn Smythe as playoff MVP in 1977-78.
Article content
After winning the Stanley Cup six times with the Canadiens as a player, he added three more as a coach with the New Jersey Devils and yet another while serving as a special consultant with the St. Louis Blues in 2019.
Robinson doesn't choose to wear the championship rings, but if he did, he could fill both hands with the jewelry.
As a larger than life presence in the game, who took care of business offensively, defensively and physically, it's hard to think of anyone who had a bigger impact through the 1970's and 1980's.
Potvin was a young fan watching his older brother, Jean, play with the Hull Hawks when he first saw Robinson, then skating for Brockville.
"It was just like what everybody had said, just a great guy," said Potvin, who, along with Jean, received the OVHO's honor in 2000, for his own brilliance with the New York Islanders.
Article content
Potvin, who grew up a Canadiens fan, closely followed Robinson and Guy Lafleur as the Canadiens rolled over the rest of the NHL.
"The bottom line is he's one of the greatest defensemen who ever played the game," said Potvin. "It was the greatest honor for me to be part of that fivesome (on defense) in the 1976 Canada Cup, with Guy Lapointe and Larry, and, of course, Serge (Savard) and Bobby (Orr). It was phenomenal. That's probably one of the great memories I had in hockey, playing with him."
Potvin and Robinson shared elite status among NHL defensemen — Potvin won the Norris Trophy in 1975-76, 1977-78 and 1978-79 — and the rivalry between the Canadiens and Islanders was intense.
Through it all, Potvin carried great respect for the tower on the Canadiens blueline.
Article content
"I could see he was one of the guys in the dressing room who could cool things down," he said. "Larry just kept getting better and better."
Now 71, Robinson is comfortably settled in retirement in Florida, golfing as often as possible.
He thanks his younger brother, Moe, for working closely with OVHO organizers to make Friday happen.
Over and over again, memories came flashing back for Robinson as he saw so many of his former friends and teammates at Hylands.
"There was Peter and Dave Gaw and some of the boys I played against, guys I haven't seen in 25-30 years," he said.
"We made a nice trip up to Smiths Falls the other day, saw some cottages on Big Rideau. It's amazing the way prices have gone. You almost can't afford to stay around here any more, but it's still a lovely area."
Article content
As a home base while back in the Ottawa area, Robinson is staying with his brother in law in Brockville, where boxes of old memorabilia are housed. Naturally enough, he went through the stuff the other day.
"We got into the old scrapbooks and news clips and everything else from my Brockville days and, of course, in Metcalfe," he said. "I found a picture of my old (Russell) peewee team from, we won't say when. It was great to see, in one instance, but sad in another, because you start looking at people who are still with us and there's more that are gone than are with us anymore.
"It just gives you a true perspective of how fast life goes."
Twitter.com/Citizenkwarren