With back-to-back first team honors, a 42-10 record over the course of two seasons, and Washington's winningest head coach, Matt Anger, to lead the way, Clement Chidekh is heading to the NCAA singles tournament.
The Lyon, France native has led the Washington men's tennis team's success at singles for the entirety of the 2021-22 season, succeeding as the Huskies' top singles player all year. Chidekh was only defeated once in his singles matches since the beginning of the calendar year to the now-No. 20th ranked player in the nation.
Chidekh's performance was recognized weekly in the national polls.
In the earliest singles poll released in December 2021, Chidekh was ranked No. 3 in the nation, and he maintained his top-5 ranking until April 6, when he was placed at No. 6. Despite this one loss, Chidekh never fell out of the top-10, earning the No. 8 ranking in the May 4 polls.
The ranking placed Chidekh as a top-16 seed going into the tournament.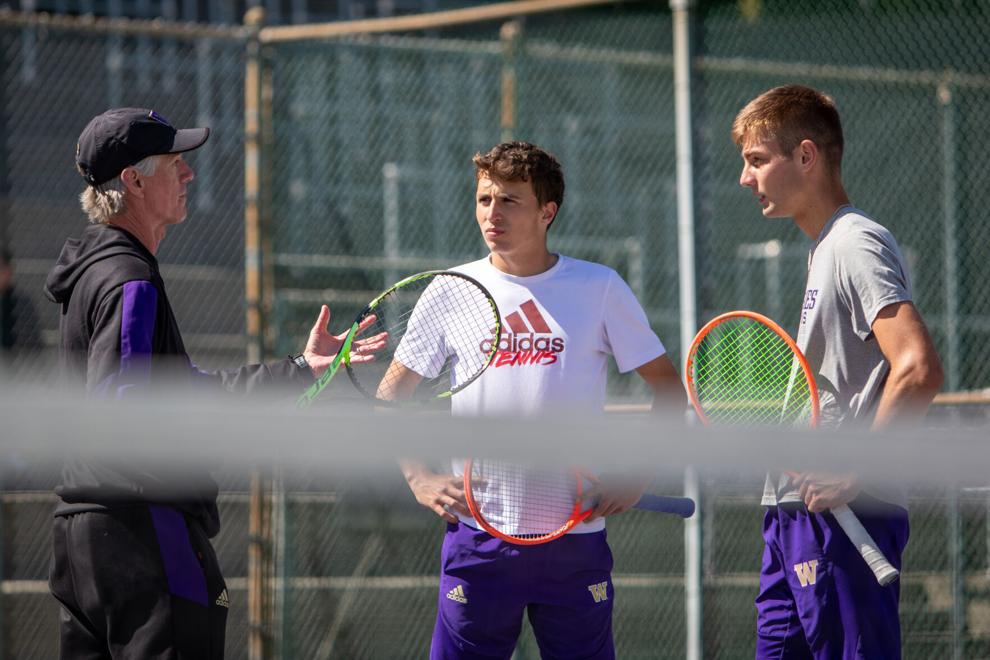 Coming off his commendable play this past season, Chidekh will be starting his professional career after the NCAA tournament. As announced last week, head coach Matt Anger is joining him.
Anger and Chidekh were first introduced through a former Washington player.
"I'd like to say that it was through some crazy amount of work and research, but really it was a former player," Anger said. "He gave me his name di lui and said there was a younger French guy that was pretty good."
Anger decided he'd consider the offer, beginning his research on Chidekh, but still not expecting it to amount to very much.
"I decided I'd look it up, thinking it would probably not be anything too special or out of the ordinary," Anger said. "As I was digging and going through the results, I realized this guy was pretty good."
Earning his first ATP point in September of 2019, after defeating five players in the French Top 100 and winning a national singles tournament by age 13, Anger quickly decided that Chidekh deserved a spot at UW.
Chidekh showed interest in playing at Washington right away, with difficulty only stemming from transferring his academic credits from a French university, where he played his freshman year.
Although Chidekh showed promise in collegiate play, Anger did not necessarily expect him to amount to the professional-level athlete he has become in Seattle.
"I honestly did not know [Chidekh's potential] right away, "Anger said. "You never really know as people progress, but I felt he really progressed a lot last year, but unfortunately he was still not ranked very high."
Chidekh then began playing in higher-level tournaments and has not stopped improving since.
When the season began back at UW in fall 2021, only jokes were exchanged between Anger and Chidekh about the possibility of them remaining a unit as Chidekh began his professional career.
"For me, there was a lot of thought about whether I was going to coach one more year, though," Anger said. "As he was doing well and was going to be turning pro, it made sense for me to retire now and work with him."
Although Anger is stepping away from what he has devoted nearly three decades to at Washington, going on tour is nothing foreign to him.
In a sense, Anger's new coaching position is beginning before his time has completely come to an end at UW. Anger and Chidekh will essentially be kicking off their duo in the upcoming NCAA singles tournament.
"We are practicing now, leaving Friday, and the draw will come out on Sunday, then play on Monday," Anger said. "There is a lot that goes into this tournament; it is the year end championship. "
The singles tournament will be held at the Khan Outdoor Tennis Complex in Champaign, Illinois beginning on Monday, May 23.
Reach reporter Tess Kadian at sports@dailyuw.com. Twitter: @ tkadian21
Like what you're reading? Support high-quality student journalism by donating here.
.