Alouettes plan to have the next head coach in place by Christmas
Once the head coach is in place, GM Danny Maciocia said he will focus on re-signing receiver Eugene Lewis and QB Trevor Harris.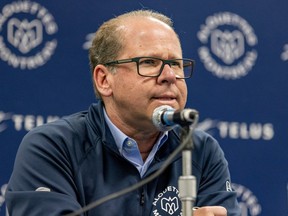 Article content
There are four candidates on general manager Danny Maciocia's radar to become the Alouettes' next head coach — a position he hopes to have filled by Christmas.
Article content
Maciocia declined to reveal any names, but wants someone with CFL experience. It could come from within the coaching staff — defensive coordinator Noel Thorpe and assistant head coach André Bolduc might be candidates — or an individual from another organization. It could be someone who's bilingual, Maciocia added, although that's not a priority.
Maciocia has an affinity for Jason Maas, his former quarterback at Edmonton, where he also became the head coach in 2016. Maas was recently fired as Saskatchewan's offensive coordinator. Maciocia might also consider Mark Kilam, Calgary's special-teams coordinator and assistant head coach.
Once the head coach is in place, Maciocia said he'll move on to personnel, while making it clear re-signing receiver Eugene Lewis and quarterback Trevor Harris are high priorities. Both are potential free agents. Lewis, the Als' leading receiver, was the East Division finalist as most outstanding player, while Harris, 36, replaced Vernon Adams Jr. as the starter early in the second game.
Article content
"Time is of the essence," Maciocia said Tuesday at Olympic Stadium — the first time he has spoken since the Als were eliminated by Toronto in the division final. "We're well aware this is a dossier that needs to be addressed, and that's where my focus lies.
"Whether it comes from inside or outside the organization, we want the best candidate. Everything being equal, we'd like to have someone from within. If we don't think there's a significant advantage one way or another, we'll definitely (promote) someone from within, knowing full well he understands who we are — the culture we've established and put in place here."
Maciocia became Montreal's interim head coach after firing Khari Jones in July, when the team was 1-3. The Als did not show immediate improvement, and were 2-6 before winning seven of their final 10 games, finishing second in the division at 9-9, before defeating Hamilton in the semifinal.
Article content
Maciocia has repeatedly said his intention is not to return to the sideline. On Tuesday, however, he left the door open to possibly handle both portfolios. President Mario Cecchini, who accompanied Maciocia, intimated that the GM could be the best candidate. And Maciocia revealed his wife wouldn't prevent him from returning as coach/GM, even though it's a heavy workload.
"I'm not prepared to do both jobs," Maciocia said. "I'm more than convinced I don't want to (be the head coach) moving forward. There are players and assistant coaches who would like me to continue doing this, as far as continuity's concerned and how we ended the season. But I'm a firm believer this is a job for two people. That's where my focus lies."
Cecchini did his best to alleviate concerns the franchise is in jeopardy, considering the estate of the late Sid Spiegel controls 75 percent of the team. Gary Stern, Spiegel's son-in-law, business partner and the Als' former governor, retains the remaining 25 percent and, after briefing stepping away from the day-to-day operations, has become more involved.
Article content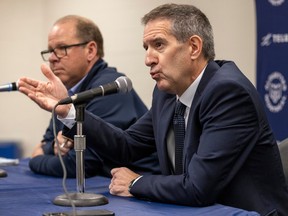 "Things can change in a flash but, so far, it's the same message," Cecchini said. "The ownership structure has been the same since 2020, remains the same and has no intention of selling. He (Stern) is part of the conversations again on a more regular basis. Right now, we're dealing with both sides. That's the way apparently it's going to be."
The Als were one game away from representing the division in the Gray Cup, which they haven't reached since 2010. The Argos upset Winnipeg on Sunday, leaving Maciocia to ponder what might have been.
"I've always felt strongly about this roster," Maciocia said. "I think there's something there you can take and continue building on. If it's with the right person, staff, management group, leadership, there's no reason we can't compete for the Gray Cup year in and year out."
twitter.com/HerbZurkowsky1
Three Als failed to capture CFL's most outstanding player awards

Alouettes' Lewis primed to become one of the CFL's highest-paid receivers

Alouettes quarterback Trevor Harris hopes to return next season