Ahead of 2023 NASCAR Cup Series Return, Dale Earnhardt Jr's Dream Project Receives a Major Boost
Earlier this year, Dale Earnhardt Jr undertook a hugely ambitious project. He was aiming to revamp the North Wilkesboro Speedway, which is a fan favorite track. Soon, after months of toiling, all those efforts paid off handsomely. This was because the track is officially making a return to the NASCAR Cup Series calendar for the 2023 season. Of course, the venue still has a long way to go before it is race ready.
ADVERTISEMENT
Article continues below this ad
Construction update at North Wilkesboro Speedway:

1. Concrete pad for SAFER and wall repair continue in areas that were cracking, etc.

2. Walls going up in the suites.

📸 Steve Swift#NASCAR pic.twitter.com/mQPiG9OAHf

— Save The Speedway (@savethespeedway) November 23, 2022
ADVERTISEMENT
Article continues below this ad
This is why the Save The Speedway Twitter account provided some much-needed updates. First and foremost, there was a concrete pad installed on the SAFER barrier and there were intense wall repairs. This was largely because there were some areas where cracks had developed. There were also some suites being built and the walls were just being erected. Finally, there was a lot of drainage pipe work in the infield, in order to address a long-term problem of flooding.
DIVE DEEPER
ADVERTISEMENT
Article continues below this ad
What to expect from North Wilkesboro Speedway's NASCAR return?
In all honesty, many people were excited to see the classic NASCAR track return. None more so than Dale Earnhardt Jr himself, and this was all possible, thanks to his tireless efforts. Earlier this year, Dale Jr participated in a race at the speedway, which was one of the first races since its revamp. The former Daytona 500 winner clearly wanted to be one of the first people to help break in the new changes.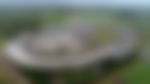 ADVERTISEMENT
Article continues below this ad
It is worth mentioning that the North Wilkesboro Speedway has been a staple on the Cup Series calendar. In fact, the inaugural race was all the way back in 1949 and has been a regular presence until 1996. When it does return, it will be the first time any of the NASCAR Cup Series drivers have ever raced at the iconic track. The big question now is, can the authorities get the track ready in time, and who will have the honor of being the first winner?
WATCH THIS STORY: Dale Earnhardt Jr Was "Physically Uncomfortable" With Kyle Busch's "Dirty Look" Before His Media Empire Kick-Started Their Truce