6'4 Michael Phelps' Flight Experience During Sydney Olympics Was Quiet "A Thrill" Compared to 4'8 Simone Biles Who Was Mistaken as a Child on Plane Recently
Michael Phelps has created a legacy with his 23 golden shining Olympic medals. Who doesn't know this legendary swimmer who has created history with his wide wingspan? However, way back before, when his name was only known to the Baltimore citizens, he witnessed a funny incident.
ADVERTISEMENT
Article continues below this ad
The incident occurred on his flight when he was young during his debut in the 2000s Sydney Olympics. It was a bit similar incident that Simone Biles witnessed on a flight. But Phelps' felt the words of the flight attendant way harder.
ADVERTISEMENT
Article continues below this ad
Michael Phelps' flight attendant incident'
For the information, Michael was just 15 years old when he made his debut in 2000. He was 6'4 in height with braces clutching his lower teeth. However, even being his first Olympics, he did incredibly and was placed in the second position in butterfly style.
But before reaching Sydney, a flight attendant on his flight mistook him for an ordinary boy. Michael described this in his book Beneath the surface. He penned, "On our way to Sydney, one of the flight attendants came up to the three teenagers on the US swim team: Aaron, Megan Quann, and me. It was still a year before the tragedy of September 11, so rules were more relaxed then."
Then the flight attendant made a good gesture, thinking of them as children. She said, "We have a surprise for you guys." The surprise was, "The captain wants to know if you would like to join him in the cockpit." Wow, what a thrill. We were overlooking Sydney Harbor, and we stared down into the Sydney Opera House, an open-air theater right on the water." After seeing Phelps winning the gold medals in 2004, 2008, 2012, and 2016, the flight attendant would have recognized him. But on the other hand, Simone Biles had an altogether different experience.
ADVERTISEMENT
Article continues below this ad
Simone's coloring book incident
During the incident of Simone, her height of 4 feet and 8 inches played an essential role. Simone won the Presidential Medal of Freedom honor in July a few months ago. While she hopped on the flight to get back home, a flight attendant came to her; Then, she asked Biles if she wanted a coloring book.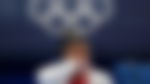 ADVERTISEMENT
Article continues below this ad
Biles revealed this through a post she captioned: "not the flight attendant trying to give me a coloring book when I board…." The situation turned more hilarious when Biles revealed her reply, "I said 'no I'm good, I'm 25.'" Michael and Simone's flight 'hilarious' incident stands at different positions. But both athletes are known GOATs in their fields with their astonishing achievements.
Watch This Story: Michael Phelps, Usain Bolt, Simone Biles, and other Olympic stars' meanings on Urban Dictionary